Podium finishes at Houghton and Chatsworth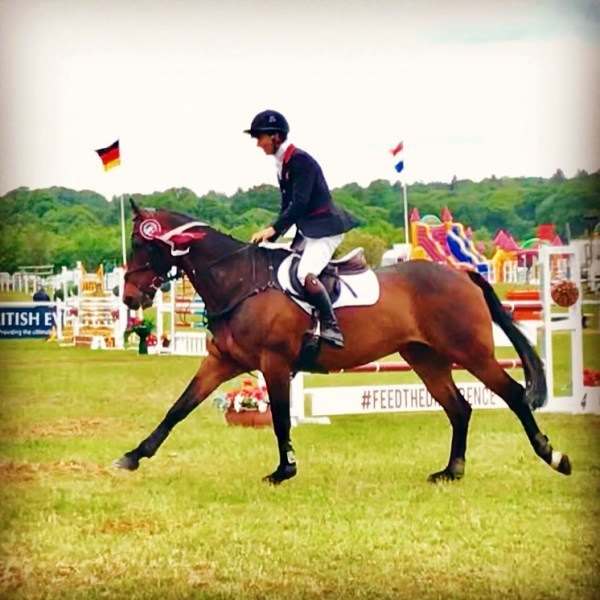 We've had a great run of events topped off with 2nd and 3rd place in the CCI3*-L at Houghton.
Two days after Badminton we had a 'back to the real world' day at Aston le Walls with five Intermediate horses in the pouring rain. They all ran well but it was purely a preparatory run for their respective three day events so I rode them each at an appropriate speed to produce them in the best form for their big aims to come.
We had a quick turnaround from Aston to get up to Chatsworth, which is one of the most enjoyable events of the calendar. It's a stunning part of the world and a beautiful setting for an event. We had three horses competing in their first international competition. Merrywell Tradition (Merrylegs) kicked us off with a leading dressage test, and Brookfield Cavalier Cruise (Fletcher) joined him near the top of the leaderboard, whilst Brookfield Pointilliste Boy (Dougie) objected to the moonscape surface of the arena, where white sand used to infill rabbit holes served as patches for him to avoid stepping on, and got the least good mark of his career so far! With heavy rain and a challenging show jumping track there was huge shake up in the order. Dougie jumped a superb clear round causing him to shoot up the leader board, Fletcher had one down during a torrential downpour whilst Merrylegs sadly dropped from the top with three rails. They all felt superb across country, jumping great clear rounds inside the time to finish 3rd, 9th and 13th.
The following weekend we had a successful time at Tweseldown. Newton Belize won his section finishing on his dressage score of 19, whilst Brookfield Pointilliste Boy was 2nd, Castle Howard Octavian 4th, and Brookfield Cavalier Cruise was 7th. Away Cruising Cruising had his first run since withdrawing from Badminton and jumped an immaculate steady double clear following a good dressage. Red Kite gave me a super ride but unfortunately I jumped the wrong half of the log in the water so resulted in a frustrating technical elimination.
We arrived home late at night and after another quick turnaround we were on the road to Houghton in north Norfolk with five horses the following morning. Houghton's another stunning setting for an event, and the park looked particularly impressive this years as it was hosting a Henry Moore exhibition.
All five horses did lovely dressage tests and until close to the end Merrywell Tradition was leading the 2* and Gideon the 3* with Mosstown Prince and Monbeg Medlar hot on his heels.
Saturday got underway with three super cross country rides on Merrylegs, Gideon and Mosstown Prince who were all clear and inside the time around courses that caused a surprising amount of problems for many including some of the most experienced.
The flowing courses were a reminder of why I enjoy riding at three day events so much - there's no better feeling than riding around good strong long format courses where you can ride the horses in a rhythm all the way without hasseling or interfering. I had a great ride on Monbeg Medlar too but disappointingly he didn't read the angled brush coming off the mound resulting in 20 penalties. The day didn't end so well as I was the last to go cross country on Red Kite at 7.20pm, he was making nothing of the course which was his first 3*, until he took his eye off the ball on the approach to a gate when he saw another horse galloping down the returning side of the track towards us; we hit the gate all ends up and I was deposited rather uncermoniously. It was a great shame but he's none the worse for it and will be back to fight another day.
We ended the week with three text book clear rounds in the 3* show jumping, first with Monbeg Medlar but more importantly for Gideon and Mosstown Prince who finished 2nd and 3rd place respectively. I couldn't have been happier with both horses who put in polished performances in all three phases and were thoroughly deserved prize winners. I'm delighted for their hugely supportive owners, James Golob and Lady Vestey, and am also very grateful to Monbeg Medlar's owner Mandy Gray who was a huge help to me in the collecting ring!
The next stop is Bramham with Tenareze and Away Cruising...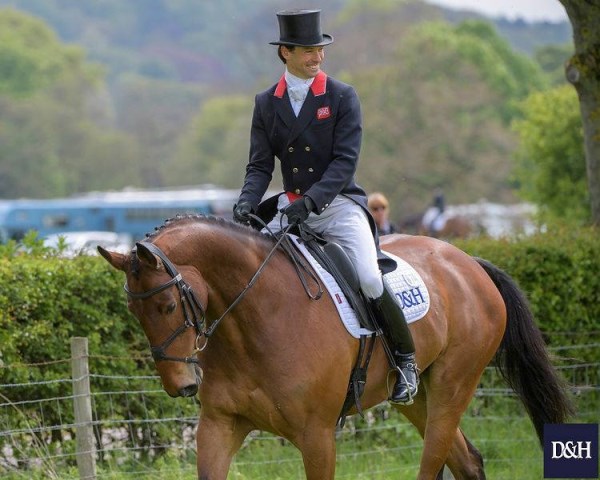 Brookfield Pointilliste Boy en route to 3rd place at Chatstworth.
Brookfield Cavalier Cruise flying thorugh the water at Chatsworth. (Kev Blackland Photography)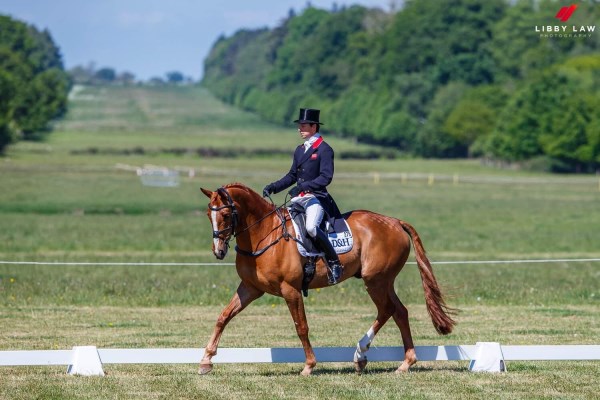 Red Kite looking a picture in the dressage at Houghton. (Libby Law Photography)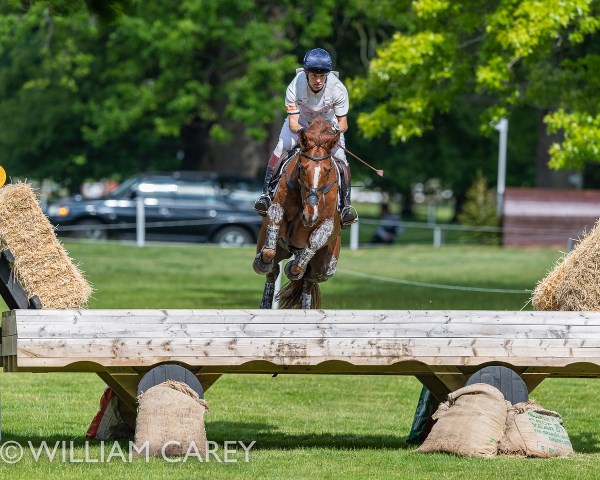 Merrywell Tradition heading for a top 20 finish in the CCI2*-L at Houghton (William Carey Photography)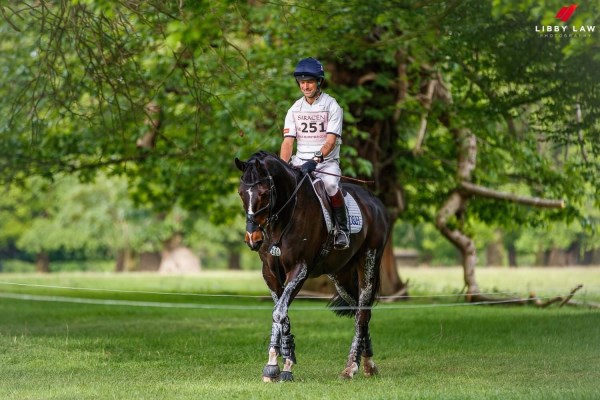 Monbeg Medlar held on course during his cross country at Hougthon (Libby Law Photography)
Mosstown Prince showing his great jumping style en route to 3rd place in the CCI3*-L at Houghton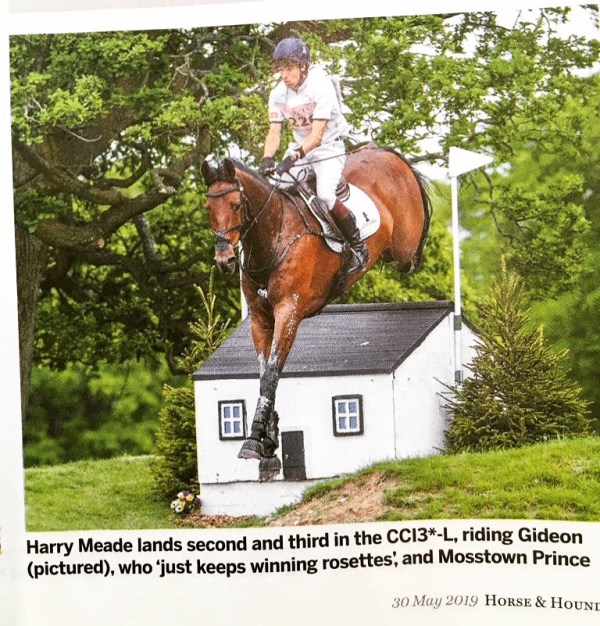 Gideon featuring in Horse and Hound after his great result at Houghton.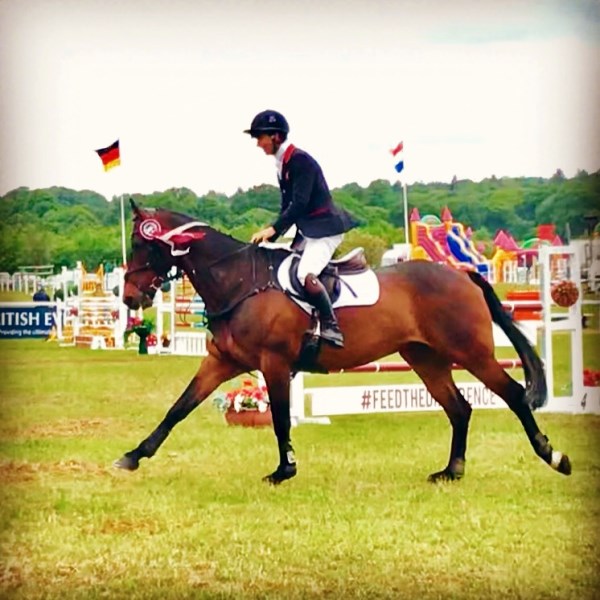 Lap of honour time