EVENTING
Eventing is a comprehensive test of all round ability of horse and rider. It was originally a military discipline, drawing on the requirements for a top class officer's horse. Over the past 50 years all of the tests have become more technically demanding with less emphasis being placed on endurance. The ability of the rider is now probably more important than that of the horse, but to succeed both must be highly trained and capable in all three tests. The marks are cumulative and elimination in any one test brings elimination from the whole competition. The horse and rider with the lowest number of penalties at the end is the winner.
The Dressage Test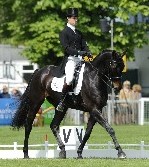 Dressage is the only element of the competition to be judged subjectively and differences of opinion do occur as each of the judges express their own view. The current rules reduce the variation with the average of the judges' marks being converted into a penalty score. A winning test with be the one with the lowest penalty score, and will appear seamless with each movement flowing freely and the rider and horse in total harmony. Any flaw in this accuracy, quality of horse's movement, or his in attentiveness will be penalised.
Cross Country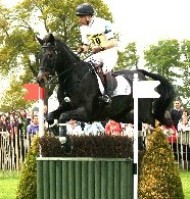 This thrilling phase enables the partnership of horse and rider to be truly tested – physically and mentally. At over 20 mph the horse must focus of the fences and clear them under the direction of his rider. Any minute variation of their line to an obstacle may make it impossible. Clever course designing ensures that every fence has an impact on the next, so the rider must be quick thinking to ensure a confident clear round. The rider must weigh up whether to take a time-consuming easier option to risk adding more time penalties to his score, or take a more daring direct route risking bigger penalties for a run out, stop or fall putting them out of contention.
Show Jumping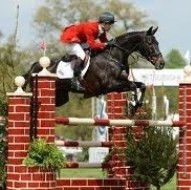 The final phase of a three day event is run in the main arena, often with electric atmosphere. Unlike the cross country, these fences do fall down, and , as they do so, the penalties mount up. Neither horse nor rider can afford any lapse in concentration, the course having been built to a precise layout. Time penalties are an additional factor.