TESTIMONIALS
Charlotte Opperman, owner of Wild Lone. "A mutual friend put me in touch with Harry when she heard I was toying with the idea of owning an event horse. I took the plunge and bought Alf (Wild Lone) who Harry had found as a green four year old. Since then Harry has produced him quietly and before I knew it I had a horse going to Badminton! I've hugely enjoyed watching him move up through the grades and being part of this small, fun and professional team. The prospect of Alf's first Badminton next week is incredibly exciting and I'm really looking forward to watching the pair of them tackle Sunday's cross country. I'm sure my grandmother - with whose inheritance I bought Alf - would very much approve!
?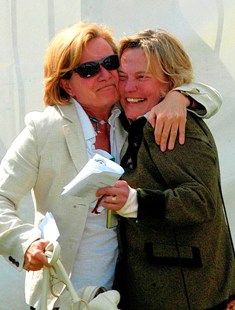 Carolyn Lissack, Midnight Dazzler's owner and breeder, said

: "Harry treats the horse like the special individual he is. He doesn't try to put a square horse through a round hole and he and Bobby fit together so well. I am confident that Harry loves him as much as I do, they are a true partnership. I knew that someone would get that out of him and I am so glad it is Harry."

Paula Gwinnet after sending a horse to Harry to sell:

"Many thanks to you all - such a wonderful team and a wonderful, if brief, experience of dealing with such professionals."