Tattersalls Dressage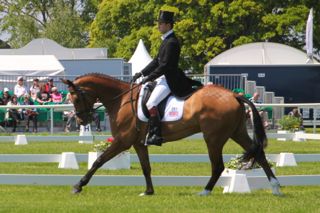 After a good trip across the Irish Sea, Harry and his team got off to a great start at Tattersalls. The horses travelled well and seemed to settle in well on arrival. Harry had some good fine tuning dressage sessions with Angela Tucker and the whole place was bathed in glorious sunshine!
Shannondale Santiago did a lovely calm and accurate test to score 46.7 in a very high class field and is lying in 14th. Eight of the top ten placed riders are past Badminton winners so it's a fiercly competitive field!! It's a good strong 2* course so fingers crossed for tomorrow.
Tall Story was on first thing this morning and did a great dressage test. He's not a huge mover but was worked in a really soft and correct way, and produced a very accurate test. We were all thrilled with him, although his score of 50.4 was a little disappointing. It's all very close though so we're looking forward to kicking on across country tomorrow.
Photograph: Shannondale Santiago