European Championships Luhmuhlen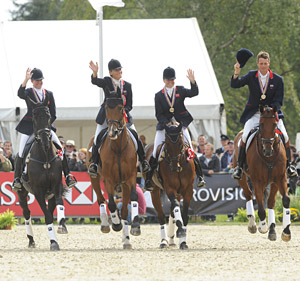 We had a great trip out to Luhmuhlen for the HSBC FEI European Championships and it was a really interesting weekend. Sadly after nine successive team golds for team GB the Germans won it this time in impressive style. Our team did a fantastic job to keep themselves in the medals after William sat tight for two very hairy moments on the cross country course to come home clear and inside the time. A pole down for each of our team riders meant we dropped down to finish third, just behind the French team. It was great to see Mary back in the saddle for the prize giving after her horrible fall on Saturday.
It was fantastic to work with some of Britain's leading sports journalists over the weekend and wonderful to be surrounded by their enormous enthusiasm for the sport. We are very grateful to HSBC for their enormous effort to raise the profile of our sport in the national press and media.
We rushed back on Sunday to get the horses ridden in preparation for Highclere on Monday, only to find out that the event had been abandoned due to heavy rain! As a result we've had all the horses out at a BSJ show today and are off cross country schooling all day tomorrow to make up for the missed run!