Wilton Horse Trials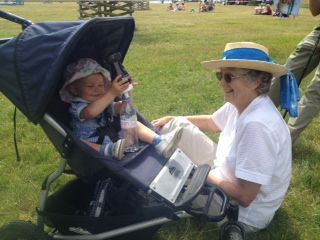 It was a fun weekend at Wilton with all five horses having successful outings and a lovely gang of owners who always make it so much fun, not to mention assisting with nannying, grooming and picnic bringing!!
On Saturday we had Tall Story, Vrolijk and Away Cruising running in Novice/ON classes. It was my first event with Vrolijk, who is owned by Colin and Anne Chapman, who was a real star, producing a lovely dressage test to score 26, and jumping a double clear to finish in 4th place on his dressage score in the hotly contested ON. Tall Story didn't put a foot wrong either, scoring 28 in the same section, and followed up with a confident double clear to also finish on his dressage score in 6th place.
Away Cruising was unlucky to be first on in the dressage but he did a nice test without it being his best and scored a respectable 31, followed by another confident clear round in the show jumping. Since he is a big young horse who has done quite a few events this season I felt that he didn't need to run across country on the firm ground, so withdrew him after the show jumping.
We returned on Sunday with Shannondale Santiago and Zebedee in the OI and Intermediate. A lot of rain had fallen overnight and the going was excellent, which was a great relief after so many weeks of beautiful weather!
Shannondale Santiago felt great in the dressage and did a lovely test to score 30.0. The marking was quite hard and he was hot on the heels of William F-P and Pippa Funnell who led the dressage. He jumped a super show jumping round although frustratingly rolled the last, and felt great across country. The course was not big but took some serious riding and felt more like an advanced than an intermediate. There were some real eye-openers that provided an educational test, in particular the big into space step which landed on ground that fell away to a low wide narrow fence, and also two very spooky waters. Stan is gaining confidence with every outing so I was really pleased with him.
Zebedee made the step up to Intermediate for the first time so it was a great result for him to come home in the ribbons, finishing 7th, particularly around such a testing course. It was wonderful to see the beaming smile on his owner Philippa Bates's face as we crossed the finish line!
Photograph: Tall Story's owner, Jan Price, playing games with Lily by the show jumping arena!