Update on Harry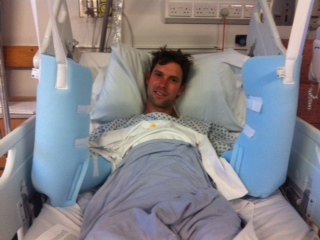 Harry and Shannondale Santiago suffered a nasty rotational fall at Wellington on Monday and Harry is now in great hands in Basingstoke hospital. Both elbows were broken and dislocated in the fall but fortunately he suffered no injuries to his head, neck or any internal organs. He has been in a lot of pain but has been amazingly brave and positive. He had an initial operation on Monday night and will have further operations on both elbows tomorrow.
The day had started really well with Shannondale Santiago doing a lovely dressage test in the hotly contested Advanced 8/9 year olds section scoring 30 to lie in 4th position and followed it up with a foot perfect clear round in the show jumping. Six year old Away Cruising was doing his first Intermediate and also did a lovely test and jumped a super double clear making nothing of the Intermediate track. Shannondale Santiago, a horse with an outstanding jumping technique, appeared to duck under the overhead beam of the innocuous second fence, somersaulting over the fence and landing on Harry. Fortunately Shannondale Santiago is none the worse from the fall and has come out of it much better than Harry.
We will keep the website updated with Harry's progress. At the moment he has his arms suspended and is unable to respond to anything himself but is hugely grateful for everyone's very kind messages of support.
Follow the link to see Shannondale Santiago's lovely show jumping round on Monday before it all went wrong. http://www.youtube.com/watch?v=pEw64sDOGIU