Dauntsey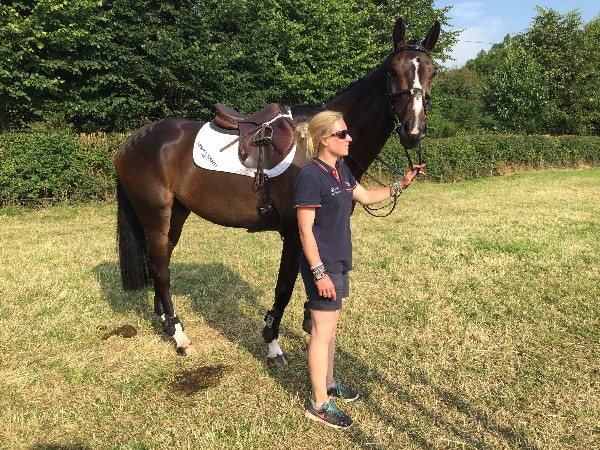 We spent a couple of scorching days at Dauntsey with the BE100 and Novice horses. I rode five horses over the two days and Tim also competed three. I love the hot weather and am quite happy competing in a heat wave, although Tim looked like stewed tomato for most of the day!
I was very pleased with Polly Lochore's Ben Riach who finished 2nd in the BE100 on his dressage score of 28. I've had a lot of faith in him from the start, despite being very green during his first few runs. He feels like he has now really turned the corner and is a proper horse who I'm looking forward to going on with.
Brackenspa Bramble, owned by the Stourton family and a new ride for me, finished 3rd with a 29 dressage and also jumped a double clear. She will now move up to novice for her next run.
Kannan's Liberty (who was ridden by Tim) finished 2nd, also scoring 29 and jumping double clear. She has looked more and more mature with each outing and didn't put a foot wrong all day. Tim also rode Gideon who went well to finished in 9th.
The courses were good and attacking and as all four are not far off stepping up to Novice it was the perfect test.
We returned the following day with the two six year olds Cavalier Crystal and Monbeg Medlar who were both in the Novice. The both did good test and jumped very well but I ran them both steadily across country as they are both entered at several events in quick succession. It was a tough enough test for them and I was delighted with the way they went.
Alex Robinson's Red Kite ran in the 5 year old class in attempt to qualify him for the 5 year old Championships at Osberton in the Autumn. He did a lovely test and jumped double clear to finish on his dressage score in 3rd place, with the top four qualifying.
With both Tim and me competing Jess has her work cut out getting horses ready for the two of us, but she managed admirably in her usual unflappable way.
The team at Dauntsey did a great job as ever to put on a fun event. Regardless of the level of classes, it's always rewarding to take a lot of horses to an event and feel that they all performed to their best in every phase. It'll be fun to see how they progress on to bigger and better things.