Gearing Up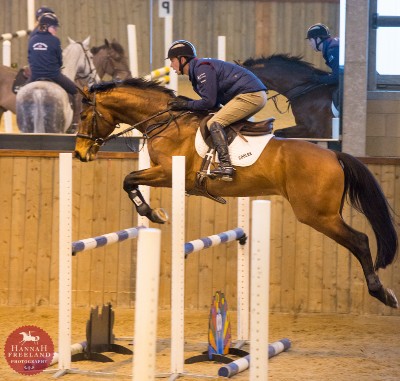 It's been a busy month of pre-season training, the horses have been put through their paces and are feeling great. We've been working on the flat with Angela Tucker and Yogi Breisner, both are hugely helpful and the Intermediate horses have stepped up their work and are now preparing for Advanced tests. We've also been to a BSJ show at Summerhouse every week for the past six weeks, jumping two classes with each horse. It's great to get plenty of ring practice after a few months off.
Thankfully we made the most of the dry start to February and managed to give each horse two cross country schooling outings before the recent wet weather forced most schooling places to close again. We had a super day at Rosamund Green Farm, the cross-country facilities there are second to none with every type of educational question you can think of. A day in torrential rain at Boomerang followed but the horses were undeterred and coped very well. I think it's really good for them (and riders) to cope with going in extreme conditions as they will have to deal with hostile elements at some point in their careers, probably when it matters most.
We've just returned from two days of World Class training at Unicorn. The days were focussed on show jumping, with some excellent exercises working on the horses' rideability. In between jumping sessions, we were seen by physios (human & equine), vets, farriers, saddlers, had a strength & conditioning work out and review and discussed plans for the forthcoming season. Unicorn is a great venue, particularly for our owners who were able to watch in the warm and enjoy Fran's delicious cooking.
Amongst all this I've given cross country clinics at Littleton Manor Equestrian Centre in Surrey and spent a fair amount of time travelling in Ireland and around the UK searching for horses. We are very much feeling the absence of Wild Lone and are keen to find another long-term partner; if you know of a horse then please get in touch!
Photographs of World Class Training thanks to Hannah Freeland Photography