Charity Race at Ascot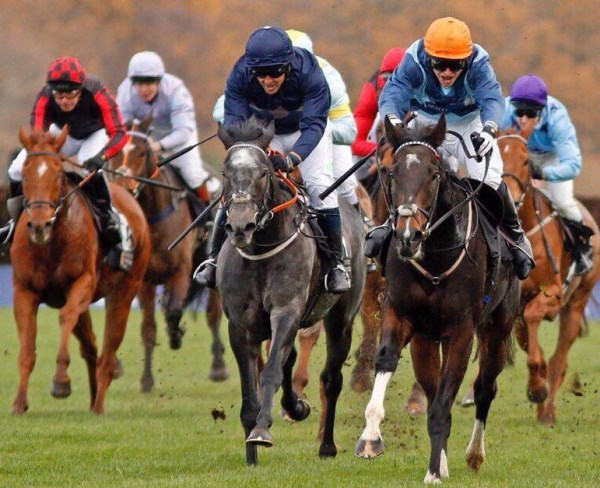 I feel very lucky to have been invited to ride in the Princes Countryside Fund Charity Race at Ascot today and it was a wonderful experience. I was due to ride a highly rated horse called Solo Hunter but sadly he was withdrawn two days before the race through lameness. I was very grateful to Trainer Patrick Chamings and his Owners for providing a last minute ride on Scottish Glen.
The two mornings prior to race day I travelled to Trainer Harry Dunlop's Lambourn yard and rode out a couple of lots each day. I thoroughly enjoyed briefly being part of their team - riding in a string is a lot more sociable than schooling horses on your own! It was also really interesting to see the different types of work they do with the flat horses and how their yard operates.
En route to the racecourse this morning I got a slightly alarming phone call from Scottish Glen's Trainer to say that the horse has a habit of whipping round and depositing his jockey on the way to the start. He's said to have got rid of most of the staff on the yard at some point and even last years Champion Jockey Jim Crowley!
The other jockeys in the race included Sheik Fahad, the young and prolific owner of flat horses, and ex England footballer Michael Owen. Michael is passionate about racing but had never ridden a horse until the start of this year, when he targeted riding in this race. It's nerve wracking enough for somebody who rides regularly, so huge credit to Micheal as being a beginner put him well out of his comfort zone particularly with his kind of profile, a public stage like this meant there was a baying crowd and mob of paparazzi waiting for a slip up. On that note I was very relieved to arrive at the start still united with my horse!
The race was run over 7 furlongs so we started at Swinley Bottom and travelled at a pretty fast pace from the off. Turning into the home straight the race was wide open before Michael Owen and Tom Chatfield-Roberts went clear of the rest with the latter prevailing. I'd love to have stuck with them but my horse along with rest faded on the soft going.
Daryl Jacob is a neighbour and very kindly kitted me out from head to toe at rather short notice yesterday including his saddle, so I at least looked the part! When I arrived back in the changing rooms all the other professional jockeys were roaring with laughter and winding Daryl up that his usual length was three holes longer than I rode in!
There was a great atmosphere in the weighing room and fun to experience the back stage camaraderie. It was good to catch up with some of the jockeys I've met over the years and see them on their own turf.
The race was run in aid of The
Prince's Countryside Fund which aims to secure a brighter future for the British Countryside, helping deliver emergency relief and support vulnerable members of the rural communities.
 I'm very grateful to everyone who has so generously donated. It's hugely appreciated and the money is going to a very worthwhile cause.