Aldon Horse Trials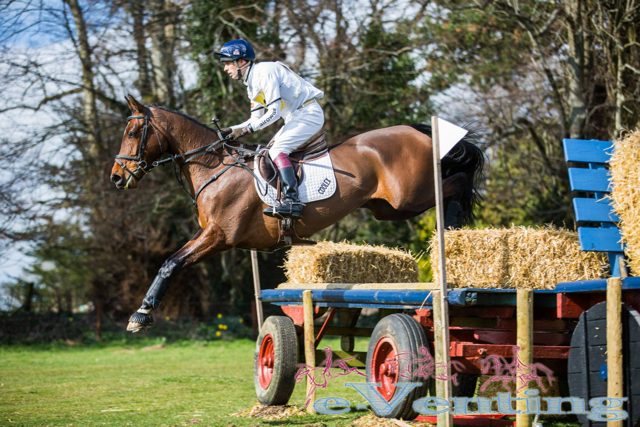 We couldn't be happier with the start to the season so far. Following on from Aston and Tweseldown, the horses continued their strong run of form over the weekend at Aldon, and once again posted strong dressage results across the board. We had six horses competing over the two days, and all finished on dressage scores between 25 and 30; none of them had more than a fence down in the show jumping and they all felt very confident across country.
On Saturday I was particularly pleased with 6 year old Catherston Definitive. He produced a smart dressage test in the Novice to finish less than a mark behind the leader in his section; he has developed into a much more elastic horse and is really enjoying his work. Fellow six year old, Mr Optimistic, who produced consistently good dressage last season, did a pleasing test to score 27 and also lie second in his section. I had my first ride on Jamie and Katie Davenport's mare, Freckleton Mythago, who only arrived a week ago. She also produced a solid test to score 29 in the IN and jumped a double clear, which was a pleasing first outing and an opportunity to get to know a little more about each other.
We returned on Sunday with Tenareze, Away Cruising and Vrolijk. Tenareze ran in his first Intermediate since he's been with us, scoring 25 in the dressage and followed it with a double clear, which I was delighted with. He is inexperienced at this level, having only completed one Intermediate and one CIC** before going to Le Lion d'Angers last Autumn, so he needs to get plenty of intermediate experience under his belt. I have been very pleased with his first few runs and feel we are beginning to develop a partnership. Away Cruising also did a smart test to score 28 in the OI. He felt impressive in all three phases and after the winter's training feels a much stronger horse this season.
The star of the weekend was Vrolijk who went beautifully in the AI. It was his first advanced test and a big step up for him so we were all thrilled with his score of 27, only half a mark behind the leader (triple Burghley winner Avebury) and ahead of plenty of top 4* horses. He went on to jump a lovely double clear and finish 7th. It was wonderful to see his owner, Anne Chapman's, delight as she watched her former BE80 ride hold his own in such strong company!
Thanks to all the team at Aldon who, as always, were very welcoming and put on a great event.
Photographs
Top: Freckleton Mythago (thanks to James Pyne Photography)
Below: Away Cruising (thanks to Verdina Sport Horses)
Middle: Catherston Definitive
Bottom: Mister Optimistic with his owners, spanning three generations!