D&H Chatsworth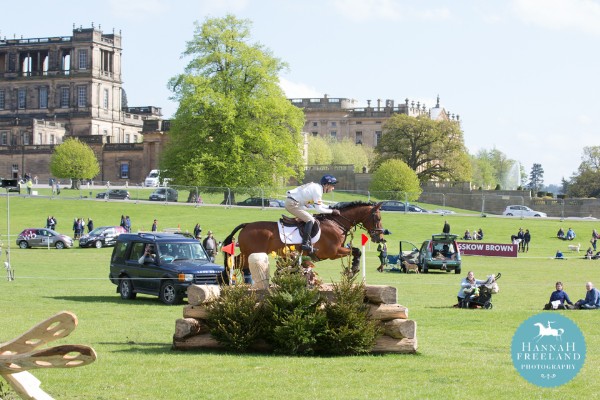 It was great to be back at Chatsworth, which is a one of the most enjoyable and attractive events in the British calendar. It has a real international feel to it and the organisers make everyone – owner, rider and spectators – feel very welcome. It is an event that we always try to support, and even more now as one of our sponsors, Dodson and Horrell, is the title sponsor for the event.
Chatsworth was our main spring target for our six year olds as it's a great experience for young horses with such a grown up main arena and crowds around the cross country course. It was also their first time staying overnight at an event and they always learn from the experiences that come with that. It's always a lovely outing for the Owners too with a chance to make a bit of a holiday of it and the opportunity to look round the house too.
Since it was a significant aim for the horses we could not have been happier with the three bay boys.
James & Carol Stanford and Moo Radnor's Mister Optimistic was the star of the day, with a 25 dressage and a double clear inside the time, he was pipped to the post by Polly Stockton but a great result to finish 2nd.
Nigella Hall's Catherston Definitive also did a smart dressage test to score 31 and lie in 3rd place, one pole down and a great round across country left him in 5th place. I was delighted with this as he can be quite sharp and spooky but wasn't fazed in spite of the atmospheric surroundings.
Tenareze led his section after the dressage and show jumping on a score of 26 and jumped a lovely double clear. He was running HC so wasn't able to finish in the money this time but I was very pleased all the same. He's a sensitive horse and is taking a bit of time but I'm keen to give him as much time as he needs as I'm sure it'll give him the best chance of developing in the long run.
I had a bit of a rush to get off my last horse after the cross-country and make it from the lorry park to the Dodson and Horrell trade stand in time for some signings, it's quite a hike but I was aided unusually by one owner lending me a mobility scooter that went like a rocket!!
We had a thoroughly enjoyable weekend – the horses all stepped up and delivered and we had a very happy band of owners!
Photographs thanks to Hannah Freeland Photography