Fabulous five-star debut for Tenareze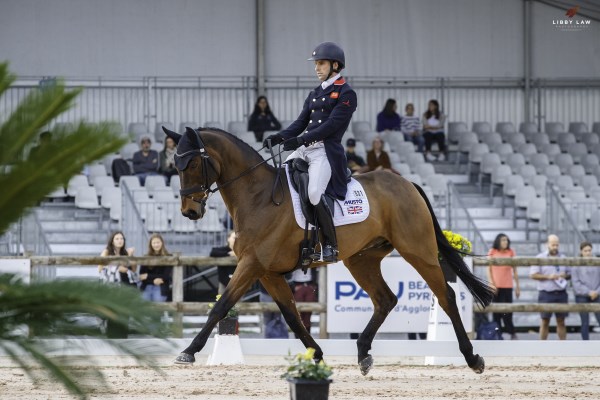 Tenareze finally made it to the start line of his first five-star. It was a great thrill for his owners and the support team to have him there as it's taken a long time to get him to this stage.
Whilst some horses need a very precise plan to get the best out of them, Tenareze takes things in his stride, isn't affected by atmosphere and doesn't need much work. So in contrast to the intensity of managing a very sensitive horse like Superstition in Maryland, the week at Pau felt like a bit of a holiday in comparison. Tenareze put his best foot forward in the dressage and produced a super test to score 29.3, putting him ahead of all three of the horses on the eventual podium.
The track was very twisty with veteran course designer Pierre Michlet setting his trademark questions of combinations set on three and a half strides, with the responsibility being on the horse and rider to decide. Tenareze has not always been the bravest with ditches but is usually pretty reliable in terms of accuracy questions. Disappointingly he had an uncharacteristic glance off early on, at a corner off a bank, which proved to be the most influential fence on the course with horses not always 'reading' the corner.
It would of course have been nice to have jumped clear but, in many ways, it was still a real achievement for Tenareze to have overcome some of the more difficult questions. For me it was my first cross country fault at five star in thirteen years. It started when I was 26 years old – if I'm to do the same again I'll be 52 before the next cross-country fault!
Sunday morning brought a few stresses as Tenareze had suffered a puncture wound on his fetlock joint – it was not concerning in the long-term but he was superficially very sore on it. With plenty of hard work from Jess and Molly they were able to manage it well enough for Tenareze to be presented at the final Horse Inspection and be comfortable enough for us to be happy that it was ok for him to show jump.
Like stablemate Superstition the week before in the US, Tenareze rounded off the week in France, and with it the season, with a brilliant show jumping clear round.
It was a special moment for his owners – Nigella Hall has had horses for over 40 years with a number of riders and this was first time she had a horse at five-star (with tears of joy shed after each phase), while co-owner David Bernstein, although unable to be there as he was busy overcoming a major health issue with stoic fortitude, was cheering loudly from afar.
Photographs thanks to Libby Law, Hannah Cole & Digital Equine