Ballindenisk International Horse Trials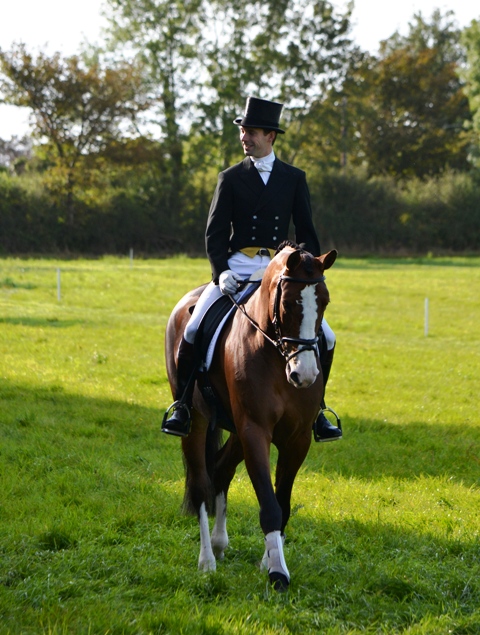 Harry and his horses made a great start at Ballindenisk International Horse Trials. A Modern Duchess was first to go and did her best test to date scoring an outstanding 40.2 and leading the CCI* from the start. This was followed by a (mostly) lovely test from Tinkas Time in the CCI***. He made a couple of costly mistakes in reinback and a flying change but still scored 52 and was lying in a very competitive 7th place after the dressage. On Friday morning Maybee IV also performed well and despite a bit of tension after slipping in the mud, he scored 45.2 and was lying in 2nd place before the cross country.
All three cross country courses were good and educational with some interesting questions for the horses and the ground was good, if a little holding, after some heavy showers.
A Modern Duchess made a great start as this was a big step up for her and she crusied round boldly, finishing clear and well inside the time to hold onto her lead. Harry was thrilled with the way Tinkas Time jumped as this was his first CCI*** and he made nothing of the fences taking all of the direct routes, so it was only time faults to add to his dressage score. Sadly Maybe IV didn't have such a happy round, and although he started out brilliantly Harry retired near the end of the course.
Heavy rain over night left the ground deep and holding for the final show jumping phase. All the courses were well up to height and sadly A Modern Duchess wasn't able to hold on to her lead and an unfortunate couple of poles down meant she finished in 7th place. Still a great result for her first three day event. By the time it came to the CCI*** show jumping the ground was even deeper and stickier and as a result the course caused a lot of problems for everyone! Tinkas Time struggled with the going and although he tried his heart out he had 6 poles down to finish in 19th place.
Harry and his team are now racing to try and catch the evening ferry back. It could be a long night at Rosslare docks!