Another win at Barbury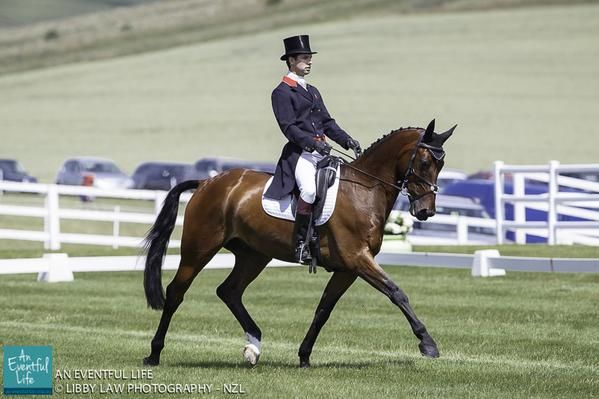 As always Barbury put on a great event with plenty going on over the four days. We got underway on Thursday with Away Cruising and Vrolijk doing dressage in the CIC**. Vrolijk, who led the dressage on his last outing at Tattersalls, produced another great test scoring 38, the same as at Tatts, to take the first day lead and was lying a very close 3rd out of a hundred by the close of the second day.
Away Cruising put in a personal best performance to score 40.3 leaving him 5th out of a hundred after two days of dressage.
We were back on Friday with three Novice horses. Tenareze continued his great run of form. Another smart dressage test put him in pole position on 27 and he followed it up with a double clear - giving him his fourth win in a row. What I was even more pleased about was the feel he gave me, he has improved with each cross country run and is jumping in a more economical way.
Catherston Definitive also did a good test, but rolled two poles which was a pity as he was jumping well. He felt great across country and with plenty to look at on the course he will have come on for the run.
Mister Optimistic excelled himself in the dressage once again, producing an all time best score of 16! Sadly the Barbury show jumping arena has never been his favourite, having been there for the Burghley Young Event Horse the two previous years and never jumping as well as other events, and he lowered three rails but even after a steady cross country run he still finished 10th because of his very strong dressage performance.
We were back on Saturday for the two star jumping phases. The arena is fairly imposing as it is set on a man-made plateau overlooking the tradestands and the three star arena below. They send the horses up a steep derby style bank half way though the show jumping course, which is also fairly imposing, so that and the elevated arena causes plenty of problems.
Vrolijk jumped a text book round keeping up his amazing form, having not had a fence down this year. He went into the cross country on a very competitive mark of 38 but unfortunately didn't understand the question asked by the owl hole on a mound, which came up early on the cross country course. Like quite a few others he never read the fence and pulled himself up, as if he was being cantered towards the corner of an indoor school. This dropped us away from the top of the class so I took him steadily around the rest of the course.
I was delighted with Away Cruising who followed his good test with a very convincing double clear. He is a big rangey horse with a long stride so the course at Barbury, with constantly changing undulations, is quite testing for him. He felt very confident and, although well placed going into the final phase, I gave him a steady outing as this was his first run back after his second place finish at Tattersalls.
The team at Barbury put on a great spectacle so it is always a good place to entertain. Monika Hunt laid on a wonderful picnic for us and it was fun to have a full team of owners and supporters there to enjoy it. It was great to have a winner and very rewarding that all the horses continued to stand out in the dressage, with four of them scoring between 73 and 84%!