Weston Park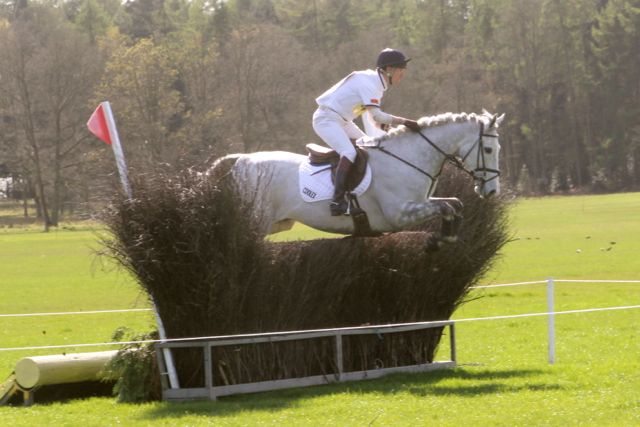 It was another great outing with the boys at Weston Park yesterday. I'm delighted that the hard work appears to be paying off as again all three horses scored well over 70% in the dressage.
Away Cruising has just moved up to intermediate level, he did a super test to score 25.5, which put him at the top of his section. Shannondale Santiago (or Stan!) followed on with a dressage score of 26 in the OI, I felt that he'd really nailed his test so was pleased that the judge agreed! Wild Lone was having his last run before Badminton so it was brilliant that he too continued his consistent run of results scoring 28.2. There definitely isn't the same atmosphere in the dressage arena at Weston and the main arena at Badminton but hopefully his consistently improved work bodes well for a few weeks time!
The show jumping is always big at Weston Park and this year the soft ground made the course all the tougher as some of the take-offs and landings became very deep and holding. I managed to avoid the deep ground by jumping the sides of most of show jumps on Away Cruising, but two fences were particularly bad and he had both of these down. Amazingly they then moved the course onto fresh ground midway through the class, which I have never known happen before. I was grateful as it meant my other two horses jumped on much better going and had very solid clears, but I did feel sorry for the horses who had to jump out of the glue, including Away Cruising. Our times were fairly tight but Mandy Gray, Stan's owner, was a big help in the busy show jumping collecting ring and proved to be an excellent fence builder!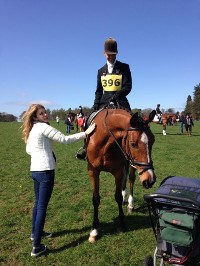 All 3 horses gave me great rides across country, I ran them fairly steadily as they were on late in the day and the course had cut up and become pretty holding in places. For Wild Lone it was a perfect last run before Badminton. I normally like to prepare with an OI rather than an Advanced or 3* run as I feel the last event is not a time to challenge a horse too much, but the sole aim is to give him an enjoyable experience so he arrives at the 4* brimming with confidence. Hopefully this will be the case at the beginning of May!
Thanks, as always, to the team at Weston Park who put on a brilliant event and what a joy to be eventing in the sunshine!
Photographs: Charlotte Opperman's Away Cruising & Mandy Gray with Shannondale Santiago