Cavalier Crystal shines at Bramham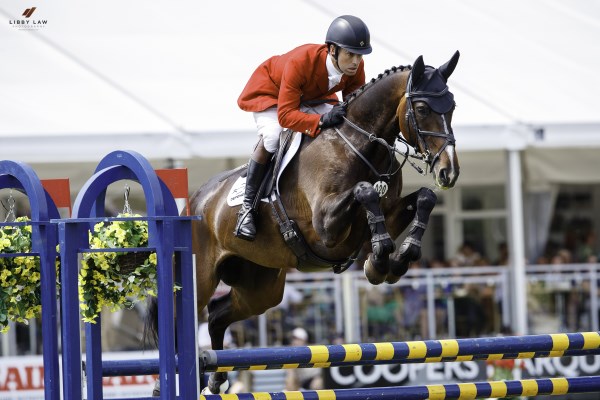 After a busy few weeks, with Badminton flowing straight into Aston-le-Walls and then on to Chatsworth in as many days, we ventured to Devon for Bicton with five horses in the Long format classes, before turning our eyes north to Yorkshire for Bramham.
Bramham is a real litmus test for horses looking to step up to five-star and the big time. With its tough track, galloping but stamina sapping terrain and championship style atmosphere, it exposes horses' credentials – or lack of – and for that reason it was the principal spring trial for my four-star string.
We'd entered both Cavalier Crystal and Red Kite in the Long Format, and Et Hop du Matz in the Short.
Things got off to a good start at the first Horse Inspection with head groom Jess Errington winning the prize for the best turned out in Cavalier Crystal. This was a hugely deserved as Jess works unceasingly and, despite this being the most frenetic time of year with a continuous month of back-to-back high-level events, manages to have each one looking immaculate as if that horse is the yard's sole representative for the month; but it also represents the committed care she gives them.

Cavalier Crystal went on to excel throughout the week. She's not the most extravagant on the flat but she put in a really solid 'clear-round' performance in the dressage to set her up well. I wasn't sure how she'd handle the terrain and distance across country, so perhaps set out a little quieter than I might have done, but she gave me a magnificent feel, was foot perfect everywhere and came home 3 seconds over the time but full of running with masses left in the tank. I always quiz the team of vets in the cool down about the rate of recovery, to gauge how fit my horses are, and she had the quickest recovery in the competition which bodes well for the future. Her cross-country performance saw her leap from 18th to 7th place. She's one of the most reliable show jumpers I've ever ridden and lived up to the billing on the final day – jumping the most immaculate clear round to finish in 5th place.
We opted to take Red Kite back to Bramham for a second year running. He too felt superb and upped his performance in all three phases from last year. His dressage was very consistent, accurate and expressive, putting him in the top 10 after the first phase. He didn't miss a beat across country – what was a challenging course felt easy for him and he romped home comfortably inside the optimum time to move into 4th place. Show jumping has always been his weakest phase but I've been really pleased with the progress he's made this year. He jumped well and was unlucky to have two rails down but still finished a very credible 11th.
We had a 4* first timer in Et Hop du Matz who was cool as a cucumber in the Short, which was a first stab at a higher level, and he took everything in his stride. His test was still a little green but I was pleased that he was unphased by the atmosphere in the arena. He jumped like a stag in the show jumping – I take full responsibility for the one fence we had down! Across country he felt like the 'real deal' – the course claimed plenty of victims, but he found everything easy and gave me the impression that he'll be a star at the higher levels.
This year's Bramham really was of the most enjoyable events I've been to in a long time – Ian Stark's courses were absolutely first class, demanding yet so rewarding to ride around and clear to the horses. The work put in by the ground team ensured the best possible going, the wider team were so friendly and welcoming with a real 'can do' attitude and the whole event had a really fun festival feel to it. It takes an army to put on an event, and a lot of hard work and expertise. This one will stand out in my memory as a Gold Standard of events. Thank you Bramham!