Larkhill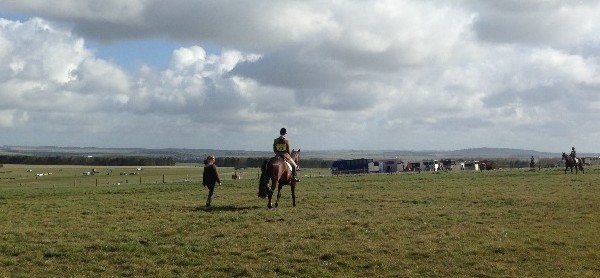 We had a good day at Larkhill on Saturday with the young horses. Whilst it isn't the most glamorous event it is very horse friendly and the going is always good. In a weekend where other events were cancelled it is amazing that the horses were hardly even cutting through the thick grass cover.
Cavalier Crystal was first on in the Novice. Her dressage wasn't quite as polished as at Burnham Market the previous weekend but she did some good work and scored 30 to lie within 2 marks of the lead. She jumped a lovely clear round in the show jumping and gave me a great ride across country, despite going just as the heavens opened. She picked up a few time faults to finish 6th.
We had three horses in the BE100; Monbeg Medlar, Ben Riach and Red Kite, all three of them running in quick succession after Portman four days earlier. The latter two horses had their first ever run at Portman and it's great for the young horses to follow on to their second outing before they've had time to forget what they've seen! Once they have a few runs under their belts they can ease off to run every few weeks as normal.
They all did good tests and there was no bad behaviour in the warm up this time! (See Portman news update.) Monbeg Medlar felt much more secure in his way of going and scored 29, Ben Riach was very consistent scoring 27 and Red Kite excelled himself to score 24. I feel like there there's plenty more to come from all of them, which is exciting.
Monbeg Medlar show jumped well and was unlucky to roll a pole, before having a confident but steady run across country – he managed to go in the next torrential downpour!
Ben Riach, who has jumped faultlessly on a surface all year, still felt very unsure show jumping on grass. He was sticky at the Portman on Tuesday, and was again stuttering on take-off, even at the cross pole in the collecting ring. I feel sure that he will come through this as he is so able and totally different on a surface; now that it looks like drying up we will get our course of show jumps out in the field so he can jump regularly on grass. He gave me a much better rider across country than his first outing and I was pleased that the stickiness in the show jumping wasn't evident in the cross country.
Red Kite went on to jump a super double clear to finish in 5th place. It is amazing how much he has come on in the last few weeks – in March I wondered whether he would be ready to start competing before May or June, whereas now, only a few weeks later, he has had two good placings and more importantly is doing it comfortably and feels relatively established.
I was pleased with the trip, I always feel that the course at Larkhill brings on young horses; the big open landscape means that horses sight the next fence a long way out and it encourages them to lock on and draw towards the fences. I'm pleased to have taken the horses so soon after their previous run at Portman; getting horses ready for their first few events of their careers is such an important and time consuming phase in their overall development. With a couple of decent runs behind them, hopefully this lot are now nearly on track and able to settle into the swing of the season.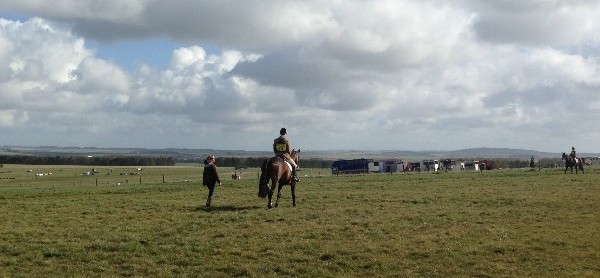 Harry and Charlotte, Cavalier Crystal's owner, walking back from the dressage across Salisbury Plain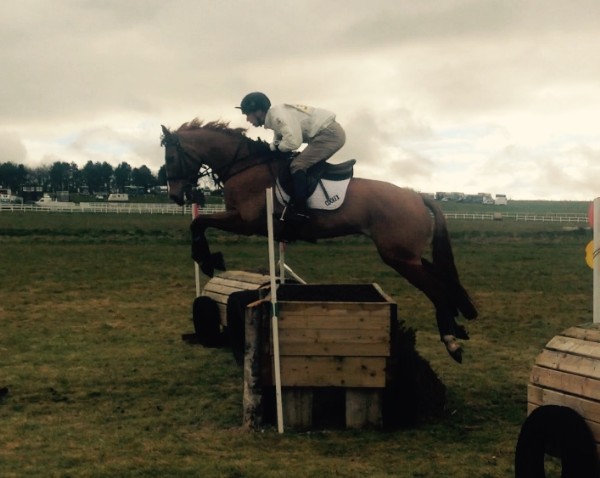 Red Kite en route to 5th place in stormy weather.