Midnight Dazzler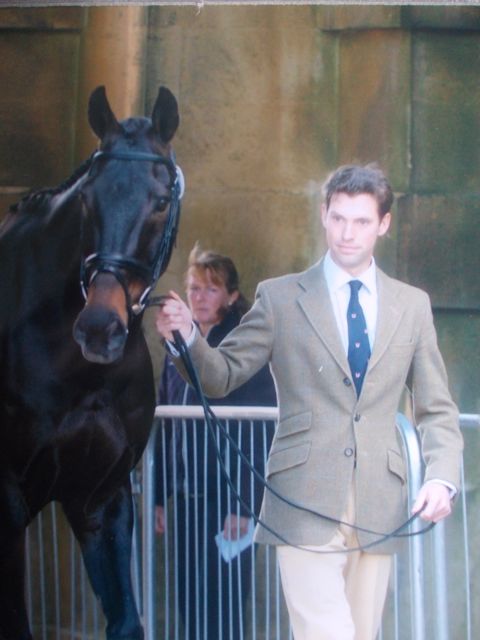 This week we received the very sad news that Midnight Dazzler had been put down at the age of 22 after sustaining an injury in the field. He had been enjoying his retirement with his owners, the Lissack family, in Wiltshire.
'Bobby' was the most amazing horse and we had seven seasons together at top level. I owe so much to him and without him life would have been very different.
Bobby was bred by Carolyn Lissack and originally competed by Katie Burton, before going to Darrell Scaife and then William Fox-Pitt. He had not always been a straightforward ride and the first time I saw Bobby was at the water jump at Blenheim, being ridden by William. There was a step out of the water to a rail, but he had a horrific fall as he tried to jump it all in one. After another fall the following year the Lissacks offered me the ride on him, on William's suggestion.
He had a history of being difficult in the dressage and being an erratic jumper, and he came to me as a step down from the higher levels as I was a young rider at the time. Several people advised me not to ride him, but I had very few horses and was very keen to take on the challenge. I took him on just before he turned 14, so we had no real hopes beyond the end of that season.
The following year at Chatsworth we had three falls in a single competition. He bucked me off getting on before the dressage, and when being led into the start-box he reared and went over backwards. I got back on, started and then had a crashing fall on the cross country! A month later we went to Luhmuhlen and had another fall in the water. That was when Midnight Dazzler was 15.
However, something changed and from then on he became one of the most established horses at four star horses, and over the next four seasons he completed seven back-to-back CCI**** events, never having a jumping fault across country and was almost always in the time.
His dressage kept improving and in his late teens he was getting the best results of his career, including finishing 8th at Burghley in 2007 and 10th at Badminton in 2009 aged 19, equalling Hooray Henry and Over to You's record as the oldest horse to complete the event.
In 2010, at the age of 20, he retired from competing at CCI****. Eventing Magazine reported that "Midnight Dazzler's retirement marks the end of one of the greatest cross country partnerships the sport has seen in modern times". He continued to compete at BE100 and Novice with the Lissack's daughter, Lucy.
Last Chirstmas Eve I had the most wonderful day riding Bobby around the 22 fence cross country course at Kilmington where he was bred and also retired to. Carolyn Lissack had kindly invited me to lead a cross country ride around their farm which was the site of their old 2* event. I hadn't ridden him for 18 months and he was a week shy of 22, but he looked and felt amazing and the feel he gave me over each fence left me on a high for Christmas. He still felt every bit like a horse preparing for Badminton, but perhaps with a few too many grey hairs to get too carried away with any come-back dreams!
Bobby had the most amazing presence. He received a cheer from the crowd at every horse inspection, usually before he had even been passed. He had character, class, speed and was probably the scopiest horse I will ever sit on. I felt like I could have jumped the moon on him. Most importantly, he adored his job.
I'll always remember him for being the most magical cross country horse. He also taught me a huge amount about training sensitive or difficult horses. It took time but we had an amazing bond and some very happy years together. It feels like losing a dearly loved friend. I will miss him badly.

Midnight Dazzler was put down on Wednesday, which was my birthday.