In Memoriam Richard Meade 1938 to 2015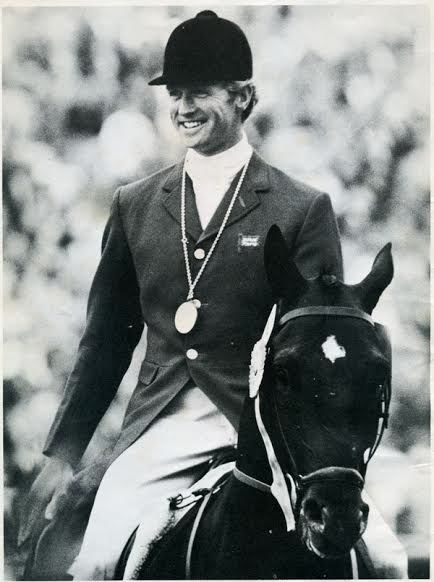 Richard Meade OBE
04/12/1938 – 08/01/2015 (aged 76)
A memorial service for Richard Meade will be held in Bath Abbey on Thursday 26th March at 2.30pm to celebrate his life.
Press release from British Eventing:
It is with great sadness that we share the news that Britain's most successful equestrian Olympian, Richard Meade, has died after a battle with cancer.
Monmouthshire-born, Richard came from a family with a legacy of equestrian links. His parents were joint masters of the Curre Hounds at Itton near Chepstow and set up Britain's first Connemara stud. Richard was educated at Lancing College and Cambridge University, where he read Engineering. He served in the 11th Hussars and worked in London before embarking on a life committed to the horse world.
Throughout his eventing career he was the outstanding rider of his time and the lynchpin of British teams for 21 years. He won a wealth of medals including team gold at the Mexico Olympics in 1968 (riding Cornishman) and, four years later, both individual and team gold at the Munich Olympics (Laurieston). He competed in four successive Olympic Games, as well as the substitute competition in 1980 at Fontainebleau during the partial boycott of the Moscow Olympics. Richard carried the British flag at the closing ceremony of the Munich Olympics.
He won two World Championship gold medals and three silver medals, as well as three European Championship gold medals and two bronze medals. He also won Burghley in 1964 (Barberry) and took two Badminton titles in 1970 and 1982 (The Poacher and Speculator III).
In 1972 he was voted BBC Wales Sports Personality of the Year. The same year he came third in the BBC Sports Personality of the Year and was part of the team that won the Team of the Year award. In 1974 he was appointed an OBE for services to sport.
In addition to his lifetime's devotion to training horses, Richard also served on the British Horse Society's Council and was Chairman of the British Horse Foundation. He was formerly President of the British Equestrian Federation, a member of the International Equestrian Federation's (FEI) Eventing Committee and then a Bureau Member and Chairman of its Northern European Group of Nations.
He served on the sport's governing body in the UK (now British Eventing) continuously for over 30 years until after its reorganisation in 1996 when he was made a Vice President. He was an FEI Judge and Course Designer, roles that took him all over the world. He was also a well-respected judge of show horses. Latterly, Richard worked as an equestrian expert witness and continued to train riders from his home in South Gloucestershire.
Devoted to his family, Richard gained great pride following the eventing career of his son Harry.
Hugh Thomas, Chairman of BE and long term colleague of Richard, shares the thoughts of many: "Richard at the height of his powers towered over the eventing world – his results far exceeded the innate ability of many of the horses he rode and he was at his very best when riding at the major events and Championships. Then he gave countless time and effort to supporting the sport he loved. His passing really does feel like the end of an era."
Andrew Finding, Chief Executive of the British Equestrian Federation commented: "Richard's medal record speaks for itself. He was one of our country's greatest ever Olympians and continued throughout his life to be an outstanding ambassador and sportsman – he cared deeply about the sport and we will miss him dearly."
Richard is survived by his wife, Angela, and their three children, James, Harry, and Lucy.
Medals

Olympic Games:
1968 Mexico City: Team Gold (Cornishman)
1972 Munich, Germany: Team Gold and Individual Gold (Laurieston)

World Championships:
1966 Burghley, Great Britain: Individual Silver (Barberry)
1970 Punchestown, Ireland: Team Gold and Individual Silver (The Poacher)
1974 Burghley, Great Britain: Team Silver (Wayfarer II)
1982 Luhmuhlen, Germany: Team Gold (Kilcashel)

European Championships:
1965 Moscow, Russia: Team Bronze (Barberry)
1967 Punchestown, Ireland: Team Gold (Barberry)
1971 Burghley, Great Britain: Team Gold (The Poacher)
1973 Kiev, Russia: Team Bronze (Wayfarer II)
1981 Horsens, Denmark: Team Gold (Kilcashel)
**A memorial service for Richard Meade will be held in Bath Abbey on Thursday 26th March at 2.30pm to celebrate his life**