Six weeks on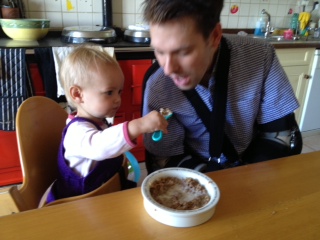 It's been six weeks today since my fall and the last few days have been full of breakthroughs - the fact that I can hold a phone and type this update myself is a big development and a welcome bit of independence. It has been a trying time for us all, as I've been as useful as someone with no arms, totally unable to do anything for myself. If you've ever looked closely at a Lego character you'll have seen they have no joint at the elbow so you can never make them touch their own head, and I have been no different! This has obviously put huge pressure on Rosie as I can't dress, feed myself, pick anything up, open doors or, worst of all, scratch my own head - something that has kept me awake for hours at night! With a one year old daughter to look after as well as me, and the logistics of the yard to keep running whilst six months pregnant, she has had more than enough on her plate. I have no idea what I'd have done if I wasn't married but all I can say is I'm unbelievably grateful to Rosie who has been the most amazing nurse both in hospital and since I was discharged. I am also hugely grateful to our fantastic team at home, Jess, Sophie, Hannah and Clare, who have kept the yard running smoothly, the horses looking super, and who have all been uncomplaining and supportive throughout.
The past month has given us a healthy dose of perspective and appreciation that things will be fine. All the downsides have been outweighed by the relief that it wasn't worse and of no longer being in the pain that I was in immediately after the fall. I landed as if diving into a pool with straight arms, which on impact snapped backwards at the elbows and shattered; it's not something I'd wish on anyone. My immediate thoughts were that my pelvis had also broken with the weight of the horse landing on me, but thankfully that was fine. I'm very grateful to my Airowear body protector, which protected every part of me that it covered.
Next week is an important hurdle, as we'll find out whether the blood supply has got through to all the fragments of bone, if not there is a worry the bone will die and will need removing and replacing with an artificial joint. I am confident that this won't be the case as it feels pretty good at the moment but it will be a relief to get past next week's assessment. If all goes well I'm hoping to get the green light to start on some strengthening work as well as continuing to work on regaining as much movement as possible.
We've just spent a week away staying with the Bechtolsheimer family in Switzerland where I was fortunate enough to have daily physio sessions and get in the gym to start work on my legs and back which haven't exactly been over exerted recently. The physio is taking a lot of work and the improvements are slow to say the least but the biggest breakthrough so far was last week when I manage my first solo mouthful of food, albeit off the end of a very long salad server!
There have been some comical moments in all of this. I seem to be endlessly shut into rooms by my daughter who thinks it's a hilarious game to run out of a room pulling the door shut behind her leaving me stuck inside and her outside - talk about a one year old running rings around her father! We've also been visited by lots of friends who've kept me entertained, I've enjoyed winding some up by muttering with an earnest expression that I might need to go to the loo quite soon...!
Now I am a bit more mobile and independent we plan to do some of the things we don't normally have time to do. We're off to see Monty Roberts in action this week and I'm looking forward to the British Champions Day at Ascot with World Class. We're also hoping to visit each of our sponsors who have all been so supportive throughout - Winning Edge, Cordings, Coolex, Airowear and Intelligent Worming.
The horses are all well, some have been enjoying an early end of season break whilst others are still in work - Angela Tucker has kindly been schooling Shannondale Santiago and my father has come out of retirement and has been doing a brilliant job on several horses including two four year olds!
Thankfully the timing of it meant that the horses mostly had a pretty full season and only missed the tail end, and three quarters of the yard notched up wins at their respective levels in the last few weeks before my fall. They can now enjoy time out in the field and I hope to be back riding by the time they come back in from their usual end of season holidays. I'm looking forward to next season and if any promising horses are looking for new riders, I'm keen to be counted in the mix as I am hoping to be back on board in time for a usual pre-season build up! In the mean time, the first thing I'm looking forward to after all of this is being able to lift my daughter who is too young to understand why her father refuses to pick her up!