Gatcombe Festival of British Eventing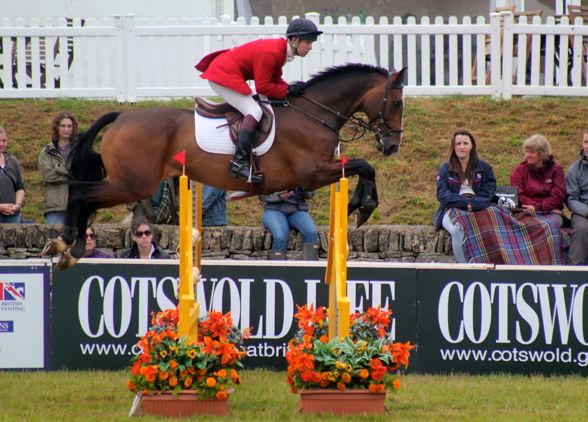 It was great to be back at 'big' Gatcombe again after the cancellation of the 2012 event and what a fantastic weekend!
On Friday we took two four year olds for the Burghely Young Event Horse class. Mister Optimistic put in another great performance to go through to the top ten in second place. He is mature for his years and worked really well on the flat and jumped an exhuberant clear round, and again scored highly for his confirmation.
Catherston Definitive had a tougher time, as just after he trotted up the centre line to start his dressage test the horse that was on before him, who was by now doing the show jumping phase, managed to ditch his jockey and proceeded to gallop at break neck speed around the ring and straight through the dressage arena past a rather startled Catherston Definitive!! It took quite a while for the loose horse to be caught and remarkably Fin stood like an angel during all this but unsurprisingly was a little tense when he restarted his test. He still performed well and went through to the final ten a little further down the order. As I wasn't able to ride both horses for the judging of the top ten (as they all go into the main ring at the same time like a show class), our working pupil, Sophie McCormack, rode Mister Optimistic and did a great job. Catherston Definitive found the main arena quite exciting but showed off his gallop beautifully and was pulled in in second place. Once the scores had been added up, Mister Optimistic finsihed in overall in 5th and Catherston Definitive in 7th place so a good result for both horses.
The main part of the event took place over the weekend, and we had Shannondale Santiago (Stan) running in the Intermediate championship and Wild Lone in the British Open championship.
They both had their dressage tests on Saturday. Wild Lone worked in a much improved outline and felt great throughout his test. He had a minor blip where he anticipated a flying change from the previous 3* test he had done, but otherwise we were delighted with his work and his score of 51. He feels like he has really turned a corner recently and his test reflected this, and I feel there is more to come.
In the Intermediate championship Stan performed a really smart and fault free test to score a very competitive 29.0, leaving him lying amongst the leaders after the dressage. It was his first advanced dressage test (the Intermediate championship is run under advanced rules) and there were some movements that were new to him, so I was delighted with how he performed. I'm very grateful to both Yogi Breisner and Angela Tucker for their help on the day.
Sunday brought all the jumping for the Intermediate and Open Championships. The Intermediate championship show jumping was very big and technical and used the significant undulations of the Gatcombe main arena. I was really pleased with how Stan jumped, and although he is such a good jumper that I would normally be disappointed with anything but a clear round, the course at Gatcombe was every bit as tough as that at Badminton or Burghley and he jumped brilliantly really proving how capable he is at this level. Wild Lone felt fantastic too and jumped one of the best rounds of his career in the Open.
Both horses gave me lovely rides across country. Stan has grown so much in confidence and is jumping out of a lovely rhythm and Wild Lone felt as good as ever. Neither felt like they ever missed a beat, they both travelled in a lovely rhythm and jumped effortlessly out of their stride. I took both horses at a good speed without going flat out so a few time faults left them just out of the top placings but we are looking forward to Burghley with Wild Lone and an exciting autumn ahead with Stan.
Photograph: Wild Lone in the British Open championship.
For more photographs please visit the Harry Meade Eventing facebook page:
https://www.facebook.com/pages/Harry-Meade-Eventing/149492518409547