Barbury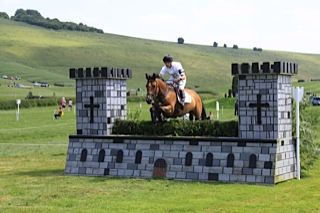 It's been a very busy few days at Barbury with most of horses in the yard having run over the four days. Barbury is a superb event with a great atmosphere that shows eventing off at its best, and particularly in the wonderful weather that we've had.
We started with the young horses competing in the Burghley Young Event Horse qualifier on Thursday, in which Catherston Definitive finished a very credible 4th in a competive class of 44 horses. Sadly the top three qualified for Burghley so he just missed out, but fingers crossed for the next one! Mister Optimistic performed well in the dressage with one of the top scores but had several fences down, possibly as the course was particulalry small and he seemed to switch off. However, the pressure was off for him as he qualifed for the final when he won at Chepstow last weekend.
We also had 2* and 3* dressage tests on Thursday. Wild Lone worked in well and felt really good, particularly with a buzzy atmosphere in the main arena with music, flags, loud speakers and a fair number of spectators. I don't normally run a horse at Barbury after Badminton but I wanted to make the most of an atmospheric arena as so many events just have dressage arenas in a field which are a far cry from the big events with a more electric atmosphere. Unfortunately he had two mistakes - he changed legs in counter canter and missed one flying change - both of which were fairly expensive.
Shannondale Santiago did a lovely test and apart from a jog in his walk, I was delighted with his work. His score of 49.2 put him in a competive position in a big CIC** class.
Friday was a day for the Novices and we had Away Cruising, Tall Story and Zebedee competing. Tall Story did a lovely test and went on to jump a super double clear finishing in 5th place. Zebedee also jumped a double clear and gave me a great ride cross country, and Away Cruising had one pole in the show jumping (which I felt was my fault not his!) but also had a great jump round Mark Philips's cross country course.
We returned on Saturday for the 2* show jumping and cross country and the 3* show jumping. Shannondale Santiago was excellent in both phases. He jumped a classy clear in the show jumping and never felt like touching a pole. He then gave me the best ride yet across country. He has imporoved in every event he has done since he has been with us, and is travelling in a much more free and rangey way across country, jumping fluidly out of his stride without having to change his rhythm. He made nothing of the influential 2* track, just coming home with a few time penalties which dropped him out of the very top placings but he still finished in the prizes.
Wild Lone jumped really well in the show jumping, so his eight faults looked worse than it felt. The showjumping in the main 3* class at Barbury is unusual as the arena is terraced, with the show jumping course on the lower level and some cross country fences, including the water jump, and one show jump positioned up on the higer level. Wild Lone slipped out of showjumping mode as he went up the slope and around the cross country fences to jump the parallel, having it down; he also rubbed the last fence which was a set planks. All in all he jumped really well so I was happy despite the poles.
The initial plan was to go to Barbury as Wild Lone's first outing after his post-Badminton break and just do the dressage and show jumping, as I don't normally run my horses straight away at a 3* having just done a 4* event. He would then run at Aston-le-Walls in a few weeks time before heading to Gatcombe for the British Open and then Burghley. After walking the 3* course at Barbury I felt there were some good educational questions that would set him up well for Burghley, so I gave him a steady run. As always he felt so solid in this phase and made nothing of the course.
It was great to see my old horse Tinkas Time winning one of the 3* sections with Piggy, they looked great together so congratulations to them both!