Wild Lone selected for World Equestrian Games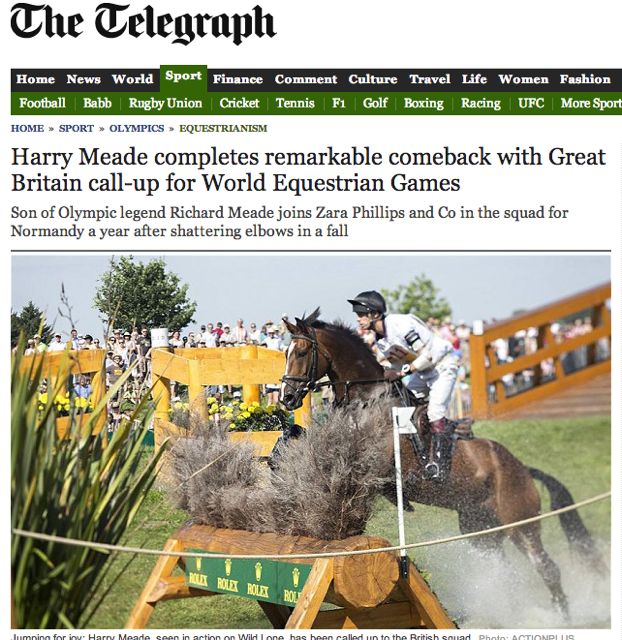 It was really exciting to get a call from Yogi, asking Wild Lone and me to pack our bags for the World Championships! It has been a lifelong aim to ride on the Senior British Team at a championships, so I am obviously really excited about the opportunity.
It has been a rollercoaster of a year for everyone involved in my support team, there have been moments during the past year that have been a bit of a struggle. Whilst incapacitated over the winter the thought of competing at WEG this year couldn't have been further from my mind. We're still riding the wave that came with finishing 3rd at Badminton, and now enjoying the prospect of being part of the WEG team, it really does go to show that you never know what's around the corner.
I really feel for both Izzy and Pippa who must be so disappointed to be sidelined due to horse injury; it's never nice to gain from a situation where others miss out. They both had great results in the spring - Izzy won Tatts and came 2nd at Bramham and Pippa's performance at Badminton really stood out. The sport can be cruel, but they have both proved that on their day they are pretty unstoppable.
I am thrilled for his owner Charlotte Opperman who has been a great supporter of me and Rosie, and for all our support team who work so hard to make it all happen.
I am also extremely grateful to my sponsors as well as the UK Sport Lottery funding in their support of the British team.
Wild Lone is a wonderful and reliable horse. We bought him from a hunter-dealer yard as a four year old but he has gone on to exceed all expectations by completing five CCI4* events and now being selected for the squad.
We are now all really looking forward to going to WEG, we'll give it our best shot!
http://www.telegraph.co.uk/sport/olympics/equestrianism/11014840/Harry-Meade-completes-remarkable-comeback-with-Great-Britain-call-up-for-World-Equestrian-Games.html