Houghton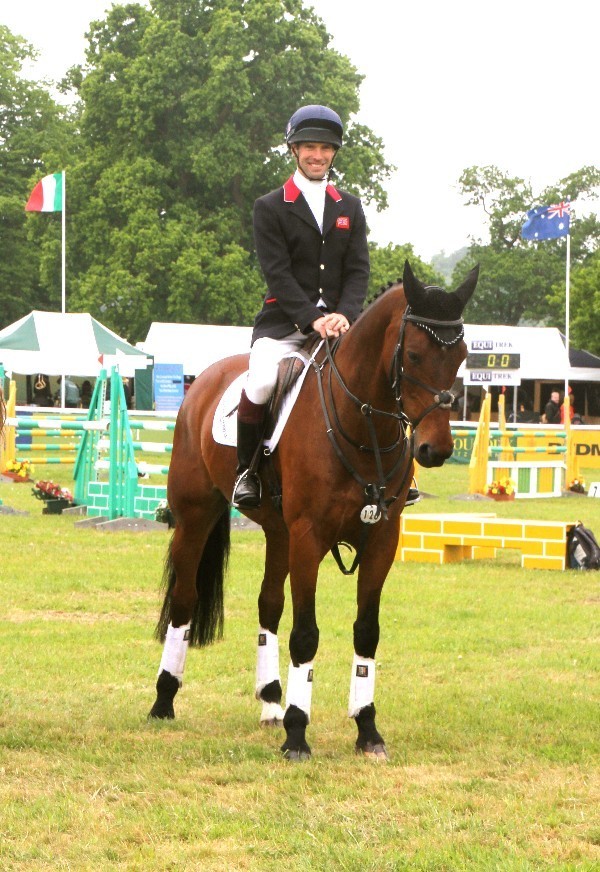 We had a busy week at Houghton with five horses - three in the CCI classes and two who went along for the ride to do the 3* combined training competition. Vroljk was the star of the show finishing third on his dressage score of 42 in the CCI**.
Catherston Definitive (Fin) got the ball rolling in the CCI* which was his first three day event. He has grown up hugely over the past six months and was very well behaved for both me and Jess - he has been with us since a three year old and had previously tested Jess's never-ending patience but Jess has finally won him over and he was remarkably good to handle! He did a pleasing dressage test with some lovely trot work and no mistakes to score 49. There's still plenty of improvement to come in his canter work as he develops a more uphill balance and power in the canter, but it was a good start and I was pleased that he was so rideable. He gave me a lovely ride cross country to finish well inside the optimum time and jumped a super clear round on the final day, reducing his very proud owner, Nigella Hall, to tears of joy!
Vroljk and Tenareze both did good tests in the CCI**, scoring 42 and 44, and both were lying in the top few after the dressage. Vrojijk was first up in the cross country and was a star. His preparation had been far from ideal as he over-reached at Belton in April and after a month of box rest and then walking he only had a few days of normal work to squeeze in couple of canters, a jump and a run through of the test before setting off to Norfolk. My father always taught me to have the horses fit enough to run in a CCI a month before the event for exactly this reason, but even so, being a little short of blood, it was touch and go whether we withdrew or ran him.
As it turned out, I was thrilled with the ride he gave me; he is such a trier and finished one second inside the time! Tenereze also gave me a great ride so it was a shame to have 20 penalties on his card. He has a huge stride and he jumped very boldly through a combination with a drop after, and landed quite far down the slop, bobbing his head on landing and never getting his eyes on the corner that came up very quickly. He made nothing of the rest of the course and finished really well. In spite of an uncharacterisitc run out it was the best ride he's given me and he jumped very boldly through the difficult combinations. Both horses came out on the final day and followed Fin's example by jumping lovely clears in the show jumping with Vrolijk finishing on the podium in 3rd. I was very pleased to finish on a score of 42 after such an imperfect build up to the event. We were thrilled for his owner, Anne Chapman, who is devoted to him and started him off in his eventing career.
We took Away Cruising and Orlando to do the 3* Combined Training competition. It was a good pre-Bramham outing for Away Cruising and an ideal opportunity to get to know Orlando in a competition environment. Orlando had only been with me for ten days but there is nothing like an approaching competition to focus the mind so I thought it would be a good incentive to get to know each other as soon as possible. He is a smart horse who has been very well produced, first by Georgie Dalton (nee Davies) and then by Izzy Taylor. He did a super test to score 40 which put him at the top of the leaderboard. I was grateful to be following Izzy and she was very helpful in the warm up, pointing out where some of his buttons are. Away Cruising was on good form and apart from mistakes in his changes produced a solid test. Both horses jumped really well in the show jumping and I was pleased that the time was tight as it was an opportunity to challange Away Cruising, who is big to manouver around the show jumping when the time is tighter. It was the ideal preparation for Bramham so a really useful exercise.
On the Saturday evening there was a post cross country cricket match in aid of Walking with the Wounded, which took place in front of the house between a team of event riders and a team of wounded servicemen. Unfortunately we had to absorb a few Aussies into our team, with Sam Griffiths captaining. To my surprise I was sent in to open the batting for the event riders, school suddenly seemed a long time ago! I managed to stay at the crease and notch up 28 runs, which was our top score - not a great testament to our performance! Bill Levett showed there's still life in the old dog as he smashed out some good runs and then a lightning innings by Indian rider Fouaad Mirza gave our team a half respectable score. Charlie Berkley, husband of Daisy, was a mean bowler (Rosie pointed out that if they were letting spouses take part we might have done better with her in the team than me) but I slipped two catches through buttery fingers and acclerated the inevitable - the soldiers quite righty wrestled victory out of our mediocre grasp!
It is always a privildge to compete at such a stunning place, and we had the weather to match. Alec Lochore and his team do a great job to put on such an enjoyable event.