Jess wins Haddon Training Team GBR Grooms award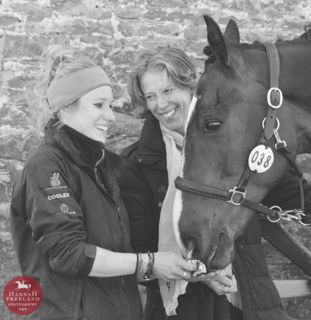 We were delighted to hear that Jess has won the Haddon Training Team GBR Grooms award for 2014, and deservedly so! She had a huge number of nominations and is a very popular winner.
Jess is a very kind and gentle person, she adores the horses and they want for nothing in her care. She has dedicated the past seven years to our horses but in particular dedicated herself to Wild Lone. He was a complex and introverted character, and she was the only person who could deal with him happily and without him becoming wound up, and this was down to her calm nature and the time and effort she gave to him.
Wild Lone's acheivements were in a large part thanks to Jess's management of him and what happened to him at WEG was every groom's worst nightmare. She lost the love of her life on a very public stage. Jess handled this situation with huge dignity and on the final day was in the stables alongside the other grooms, helping them with their horses and was brave enough to walk into the stadium at Caen for the medal ceremony without her horse.
Jess epitomises the two ingredients that make a great groom, exemplary professionalism and complete devotion.