Burghley Success
Since the premature loss of Wild Lone in 2014 there's been a patience-requiring gap at the top of my string so this Burghley feels like it's been a long time coming! Away Cruising truly stepped up to the mark and it's lovely to have a proper 4* horse again. I've ridden him since he was a four year old and I always felt that he'd be better suited to the big open park events, which only exist at the higher levels, so he's been biding his competitive time and aiming for Burghley since he came here in the BYEH final as a five year old.
He showed some good work in the dressage barring mistakes in the changes which were costly; he scored 53 which was respectable for a Thursday early morning test but was a bit off his usual mid 40s scores.
Mark Philips designed an outstanding 4* cross-country course, it was a classic Burghley track - dimensionally big but not always square in profile, and with some attacking technical lines. The terrain at Burghley is always immensely tough and you never know how a horse is going to cope with the speed and hills until they've been there and done it. Regardless of what was going to happen I was delighted to be setting out around a true 4* course again.
Away Cruising is a big horse with a huge stride but is not the most adjustable in front of fences. It was a real baptism by fire for him but he stood up and answered the questions; he was straight and focused through all the technical questions and showed his huge scope. He needed time to digest a few of the more imposing questions, but with more experience under his belt in the future we'll be able to shed a few of the time faults.
The course proved to be every bit as challenging as it walked and caused problems the whole way round. I couldn't have been happier with a super clear round and we moved up 26 places on the leader board.
Show jumping has been always been a weakness for Away Cruising and it's been at the centre of his training regime all season. When I walked the course I felt it was very decent and after the morning session of jumping there was only one clear round. I was very grateful to Rowland Fernyhough for driving up from Gloucester to help and it really paid off. Away Cruising jumped the best round of his life with just one down. It was a really great result for him to finish in the top 15 and we're excited about the next few years.
It was also a brilliant result for the Brits this year, filling the top of the leader-board. Huge congratulations to Oliver, Piggy, Gemma and Tom.
BYEH final
Aside from the main event we had Castle Howard Octavian in the 4 year olds Burghley Young Event Horse final. He did a good dressage test and jumped well, despite being a little green in such bustling surroundings. I was pleased that he scored the top mark (19/20) for Conformation and Quality – although it's a big aim to win the BYEH the more important aim for us is to have a horse that will stand up to ten years of training and competing at the highest level; I always regard this section of the class as a key indicator of the likelihood of the horse being able to fulfil his potential in the other phases – if they don't have the soundness or quality the horse will not get to top level to show off their movement and jump.
He sailed into the top ten and was pulled in 2nd in the final judging for Suitability and Potential finishing in equal 3rd overall - a really exciting result for a lovely young horse.
Jam-packed activities
It is great to be involved with Land Rover, the long-term title sponsor of Burghley. Mark Todd, Zara Phillips and I had some fun on Wednesday evening test-driving the new Range Rover Velar around the course. https://www.youtube.com/watch?v=0bC-sLLSptc
It was great to meet Gabby Logan and some of the Invictus Games athletes for a Q&A straight after my cross country round and a real eye opener to what so many soldiers went through in Afghanistan. From there I did a stint in the BBC commentary box, sitting on the other side of the metaphorical fence.
Pol Roger put on a very entertaining charity quiz called 'Bits and Balls' on the Friday evening with a team of event riders tackling some Rugby players, hosted by Clare Balding. It was a huge success with a lot of money raised for the late Hannah Francis's charity Wilberry Wonder Pony. Our team at Church Farm came up with a large proportion of the questions for the Rugby players and there were some entertaining answers.
I enjoyed taking a large team of Fairfax Saddles' guests around some of the course on Friday to give them a bit of an understanding of the technicalities of the fences and am delighted to have joined the Fairfax team.
Thank you to all our sponsors and supporters who were to there to cheer us on, a huge thank you to Charlotte Opperman, Away Cruising's Owner who has been so patient through his journey up the grades. Thank you to our wonderful team at home who gave us a very touching welcome home reception. Finally, my head girl Jess Errington has gone above and beyond day in day out to get Away Cruising here in the best possible shape – THANK YOU!!
En route to dressage
Fence 4 - the Lion Bridge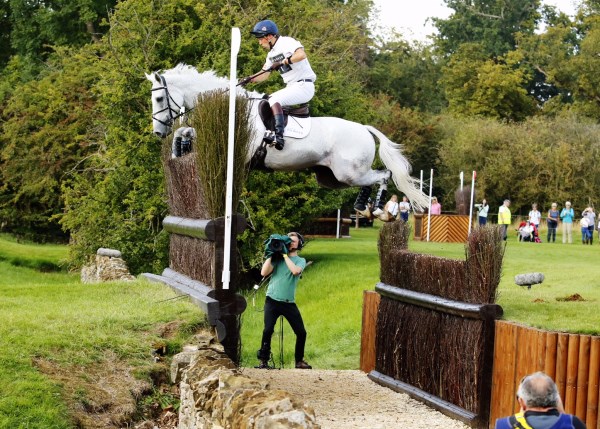 He had a look into the Cottesmore Leap.
Photograph thanks to Digital Equine Photography
Showing off his scope at the Maltings
Photograph thanks to Fiona Scott-Maxwell
Flying grey!
Photograph thanks to Hannah Freeland Photography
Powering over Herbert's Hollow.
Photo thanks to Chantal Crosby
Sunday Showjumping
Photo thanks to Chantal Crosby
Happy times - straight after Away Cruising's first Burghley completion.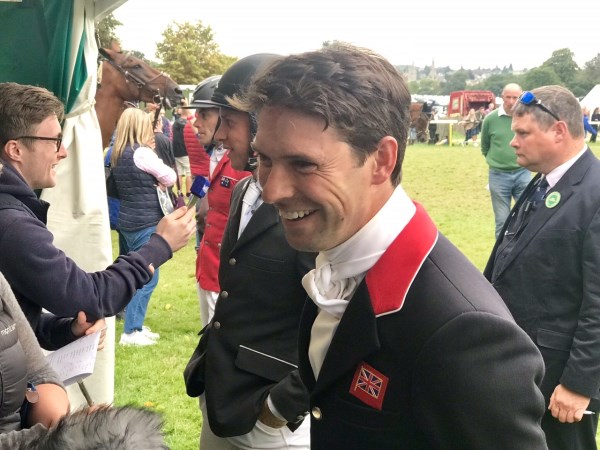 Fulfilling media duties post show jumping
Flash back: Away Cruising's last visit to Burghley was in 2012 for the 5 year old final of the Bughley Young Event Horse class.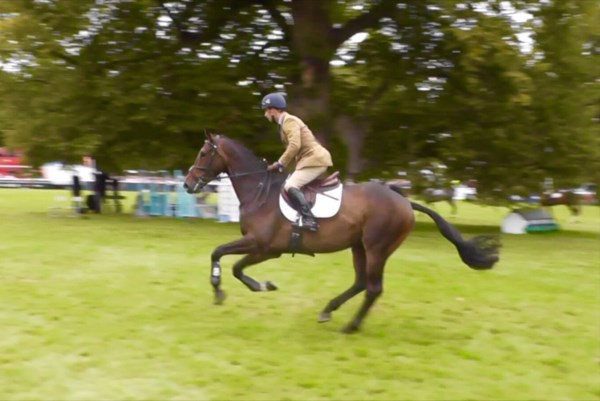 Castle Howard Octavian showing off his gallop in the BYEH 4 year old final - in which he finished 3rd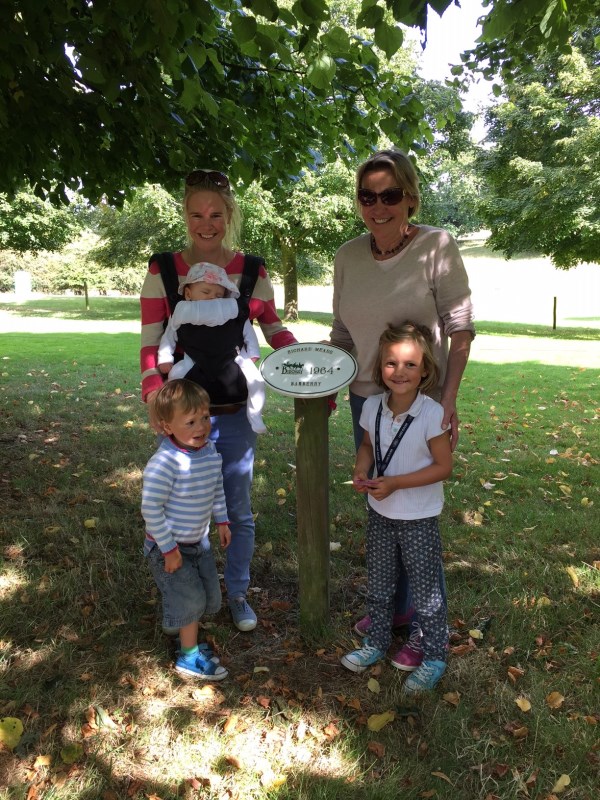 My family at Dad's plaque on Winners Avenue - my mother with my sister and neice, and my two children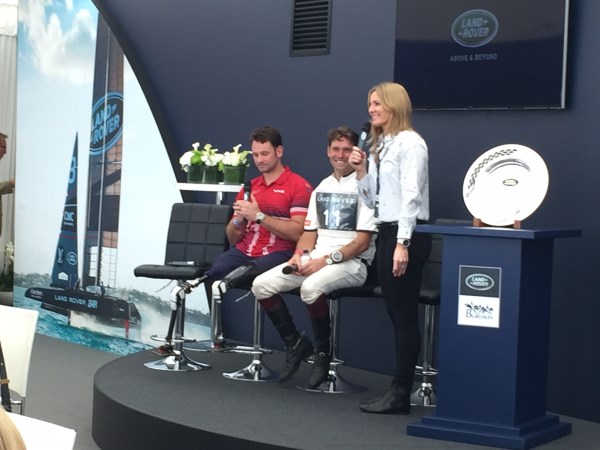 Land Rover Q&A with Gabby Logan and Invictus athlete Steve Arnold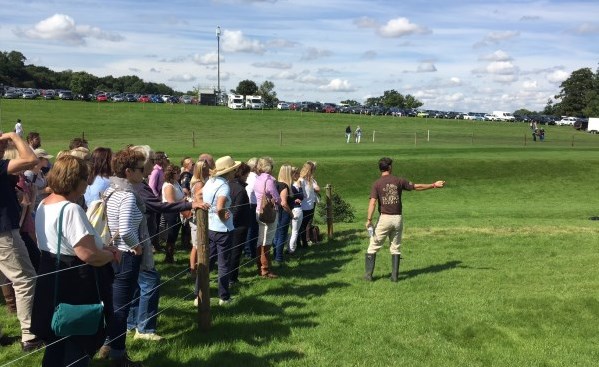 Course walking with guests of Fairfax Saddles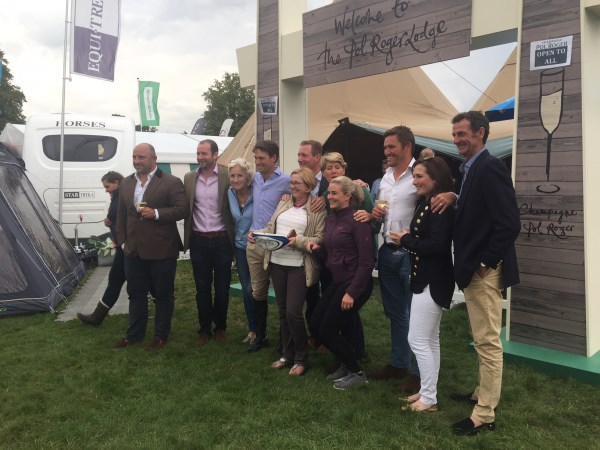 Team line up post the 'Bits and Balls Challenge' in aid of Willberry Wonder Pony at the Pol Roger Lodge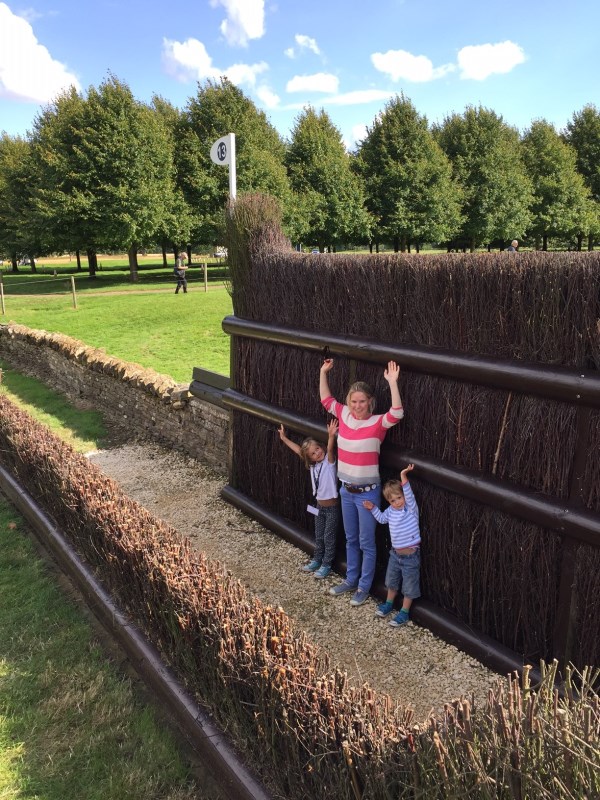 It never gets any smaller - The Cottesmore Leap, with my sister, Lucy, and Lily and Charlie acting as yard sticks
A touching welcome surprise from our team at home.