Cholmondeley and Calmsden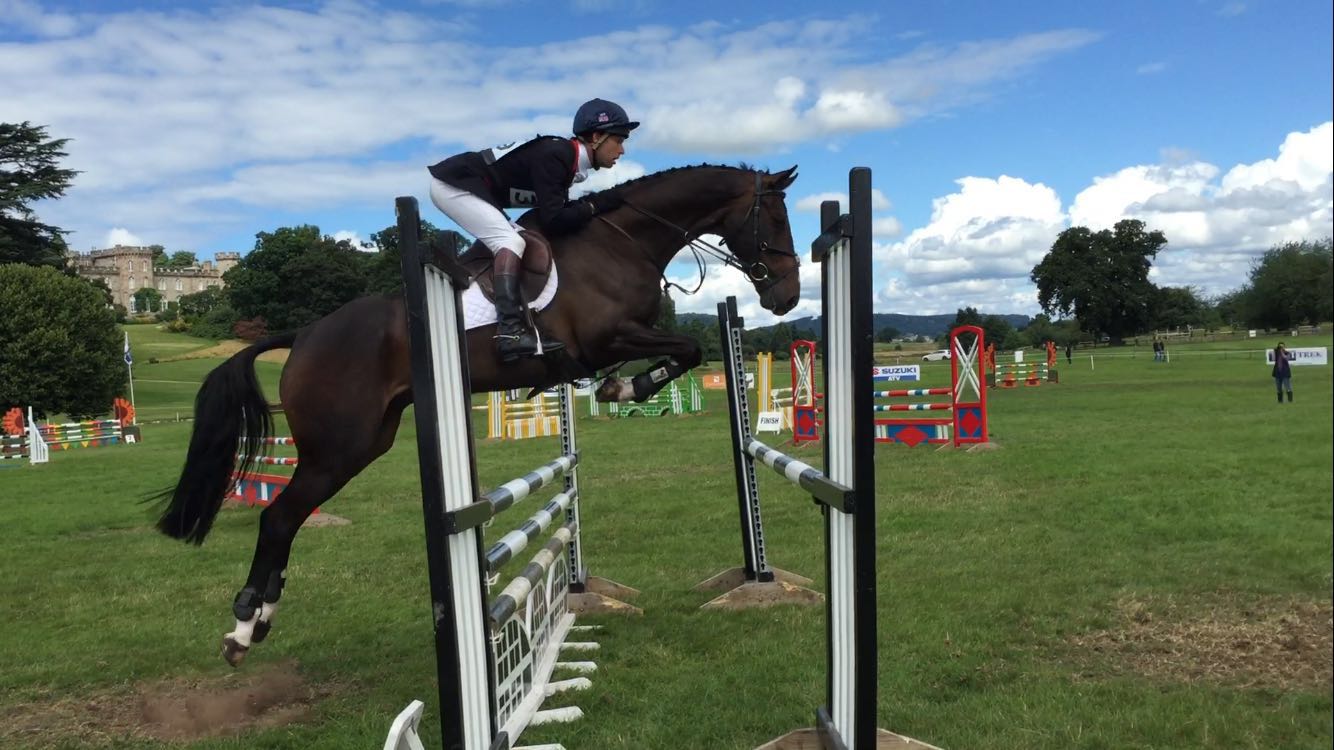 We had the earliest start of the season so far with a 3.15 depature for Cholmondeley Castle, with Jess's alarm going off at 1.30 am! We had a full team of five horses: the two six year olds, Monbeg Medlar and Cavalier Crystal, were both in the Novice and Tenareze, Sparky's Reflection and Catherston Definitive were in the OI and Intermediate.
It was my first visit to Cholmondeley and it's always fun to go somewhere new. It's a very striking setting with the show jumping nestled below the castle, and the course running through lovely parkland with lakes and beautiful trees. The cross country were fairly decent with a good old fashioned coffin and some attacking combinations.
I was pleased with Cavalier Crystal's test, she is felling pretty established and made no mistakes to score 25. She jumped a lovely clear round in the show jumping and felt super across country.
Monbeg Medlar did a nice test although had two blips, to score 30, and he also jumped a super double clear. It was the first time either of them have seen an old fashioned coffin and although both had a look at it I was so pleased with the way in which they did look - in an inqusitive, light footed, forward going way. They are both really quality horses and have excelled at everything asked of them so far this season.
In the Intermediate, Catherston Definitive was quite distracted and lit up all day - he didn't do his best test and scored 37, then jumped rather tensely and had two down - using the horses on the cross country course, which went straight past the show jumping arena, as a reason to canter around the course snorting with his tail held aloft! He felt good across country but needs to knuckle down in the other phases next time!
Tenareze did a super dressage test, probably the best he's done this year, with a good score of 26. He jumped a very convincing double clear so I couldn't have been happier with him.
Sparky's Reflection was much improved in the dressage and scored 28 in the OI. He's very level headed and obedient and he is getting stronger in his work, his paces are slowly developing and there's definitely more to come. He rolled two poles in the show jumping but he was jumping well and I was quite happy with how he performed. I really enjoyed my ride across country and he had really enthusiasm. I'd planned to have a steady run so didn't hurry him, but he ate up the ground and came back with only 2.8 time faults.
It was a good day with all the horses going very well across country. They all had a bit of a look jumping into the water, which was pretty unsightly with dyed dark blue water in the bottom of a bomb hole under some trees, so very spooky. Apparently a girl who fell into it emerged looking like a smurf!
During the same weekend, we also had Bloomfield Bantry (Punch) and Livell running at Calmsden in the BE90 with Tim. Both horses were doing their first events. Punch was a star finishing in 5th place with a 29 dressage and a double clear. Livell did a very smart test to score 22 and had one pole down in the show jumping, but was still in the lead going into the cross country. She had a progressive round - a.k.a. stopped at the first fence before improving and finished very well!
Tim does a super job with the young horses and we had some very happy owners.