Aston le Walls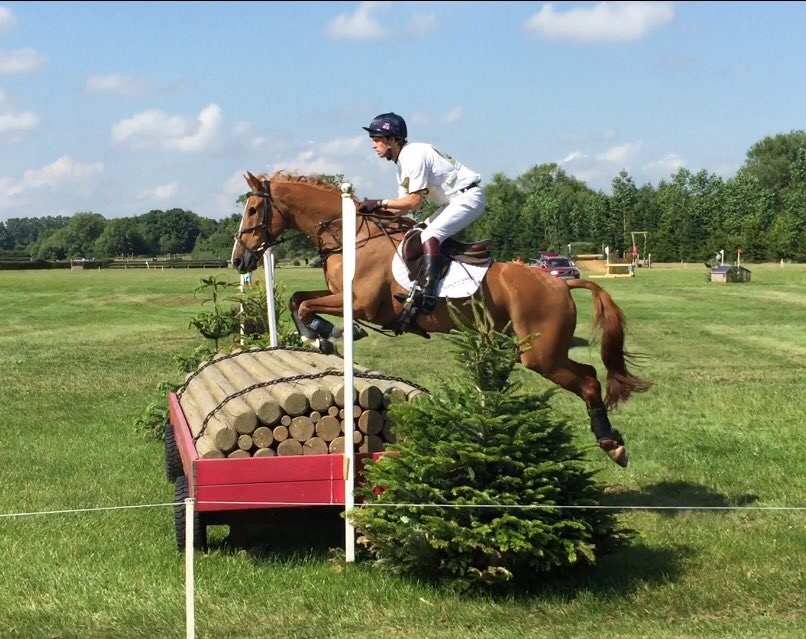 We had three horses running in the Advanced at Aston le Walls; Vrolijk, Orlando and Away Cruising.
Vrolijk was doing his first Advanced, and it was my first advanced run on Orlando although he has plenty of experience at this level; Away Cruising was having a prep run ahead of the CCI*** at Mill Street at the end of August.
Vrolijk did a 29 dressage and jumped a very good double clear. Although the going was good I ran him fairly steadily as he had fast spins around Houghton and Barbury and heads to Milstreet in a few weeks, but still finished 10th. We were all deighted as he came to us a couple of years ago with a bit of a dent in his confidence and the aim was to get him going well and enjoying novice level, so it's great to have a very solid spin at advanced level.
Orlando did a really smart test scoring 27 to lie in 2nd place in a top class field and also jumped a lovely double clear. He had a easy run as he is heading for Hartpury in a couple of weeks, so finished in 9th place. It was lovely to have a big group of his owners and fan club there to support him!
I was pleased with Away Cruising, there were a couple of areas still to work on in his dressage but the flying changes are imporving now and he did some good work. He jumped the best show jumping round he has jumped around a decent advanced track which caused plenty of trouble. He felt excellent cross country barring a brief moment where he made up too much ground in a combination getting in close to the middle element and took the flag out. In order to avoid potential elimination if I'd jumped the 'C' element only to discover I was the wrong side of the flag I jumped 'B' again giving him a technical 20 penalties. Rosie was videoing head-on to the fence and with hindsight he had jumped the right side so a shame to have an undeserving blip on his record.
The team at Aston always do a great job, and the watering meant the going was near perfect. Considering they run so many events around the site they do well to keep the courses interesting - there was a double of bounces onto and off a mound, and the fences on the ski-jump-style mounds either side of the water are only very small but are always a good educational question for the horses. Aston does a great job to provide high class competition with a very relaxed atmosphere, largely created by the friendly team there and helped by fun additions such as the musician playing live by the secretaries!
All the horses have run during the past week so we are now off to Austria for a 3 days in the mountains above Salzburg with the children which should be great fun.